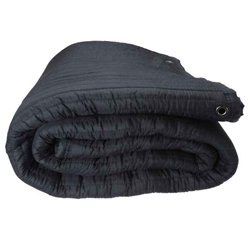 Urbana, IA (PRWEB) April 29, 2016
The latest addition to the Professional Moving Supplies category at US Cargo Control is also widely known as a requirement for producing excellent recorded sound quality.
Sound Blankets feature an extremely padded design wrapped with a soft cotton/polyester fabric shell. This makes them ideal for both protecting fragile items during a move and as a sound-absorbing layer.
The blankets are available in two sizes, including a 72" x 80" which is a traditional moving blanket size, as well as a larger 80" x 96" size. Both sizes feature grommets along one edge and straight stitching. The fabrication is an 85g weight, making it the thickest blanket available from US Cargo Control.
US Cargo Control Purchasing Manager Leslie Lowdermilk says the blankets have already proven to be a popular choice for sound management- whether in a sound studio or for blocking unwanted sound. The straight stitching on sound blankets has been proven to absorb sound more evenly than traditional moving blankets with zigzag stitching.
"We've heard from customers using the blankets for their in-home studio, as well as some who are using them as a sound barrier to cover windows," said Lowdermilk. "The larger size has an 80 inch length, making them perfect for hanging from floor to ceiling, and the straight stitching is much more visually appealing than the zigzag stitching on traditional moving blankets."
The new sound blankets are part of an overall expansion of the Moving Blankets category for the Iowa-based cargo control company. Other recent additions include new sizes of the company's popular Moving Skin and Econo Saver, as well as additional multi-pack sizes of each style. Burlap moving pads in a moleskin fabrication are also recent additions to the product lineup.
"All of the new blanket options are proving to be welcome additions; with a total of 12 different styles to choose from, our goal is to ensure customers are finding just what they are looking for in a moving blanket," said Lowdermilk.
Customers can order online at USCargoControl.com, or call the company's dedicated Moving Supplies sales directly at 800-989-4863.
About US Cargo Control
US Cargo Control is a leader in the cargo control industry, specializing in lifting slings, cargo control, rigging equipment and moving supplies. Focused on offering quality products, timely delivery, and an excellent customer experience, customers can purchase products on the company's website, USCargoControl.com or by phone at 800-989-4863.