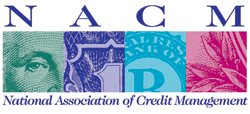 Momentum was lost in August and the economy slumped, as reflected in a steady deterioration of the CMI numbers then. The difference between last summer and now is that there has been a consistent build in the data, which would suggest more sustainability.
Columbia, MD (PRWEB) April 29, 2016
The strong showing in the CMI numbers began in November, according to the April report of the Credit Managers' Index (CMI) from the National Association of Credit Management (NACM), and has been climbing ever since, which bodes well for credit managers.
Improvement in the unfavorable factors categories was enough to offset a slight dip in the favorable factors and indicates that "there are some signs that troubled companies are coming out of their crises, while stronger companies continue to grow, albeit at a slower pace," said NACM Economist Chris Kuehl, Ph.D. The combined favorable index slipped from 60 to 59.2, while the combined unfavorable number moved up from 50.6 to 51.6. New credit applications and dollar collections data show signs of weakness. "Usually, dollar collection data improve as there is more demand for credit because it is far easier to ask for additional credit if one is current with the creditor," Kuehl said. "It was not a bad month by any stretch, but some of the momentum from the previous month has slowed."
Meanwhile, unfavorable factors' performance signaled some recovery in companies that had been facing financial issues. Five of the six subcategories show improvement, with only disputes remaining steady at 50.8. In all, it was a good month as "this is the first time that all the unfavorable readings have been above 50 in close to two years, and that is a significant development," he said.
"To some degree, these numbers suggest that companies that were on the ropes have finally reached the end," Kuehl concluded. "They are no longer driving the data down, and there is also evidence that the improved favorable data has sparked some recovery and growth, allowing businesses to get back in the game as far as expansion and the need for additional credit."
For a full breakdown of the manufacturing and service sector data and graphics, view the complete April 2016 report at http://web.nacm.org/CMI/PDF/CMIcurrent.pdf. CMI archives may also be viewed on NACM's website at http://www.nacm.org/cmi/cmi-archive.html.
ABOUT THE NATIONAL ASSOCIATION OF CREDIT MANAGEMENT
NACM, headquartered in Columbia, MD, supports more than 15,000 business credit and financial professionals worldwide with premier industry services, tools and information. NACM and its network of affiliated associations are the leading resource for credit and financial management information, education, products and services designed to improve the management of business credit and accounts receivable. NACM's collective voice has influenced federal legislative policy results concerning commercial business and trade credit to our nation's policy makers for more than 100 years, and continues to play an active part in legislative issues pertaining to business credit and corporate bankruptcy. NACM's annual Credit Congress & Exposition conference is the largest gathering of credit professionals in the world.