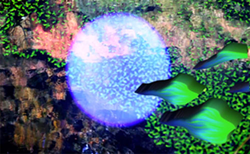 Santa Fe, NM (PRWEB) April 28, 2016
David Richard Gallery's latest exhibition, "Plugged In", revisits the gallery's roots in the exploration of post-1960s abstraction with a gathering of artists influenced both by earlier developments and modern technology. The exhibition includes several of the gallery's long-standing artists – Christian Haub, Matthew Kluber and Matthew Penkala while introducing several New Media artists into the mix – C. Alex Clark, Anne Farrell, Noah Klersfeld and Chase Stafford.
The exhibition, "Plugged In", will be presented May 13 through June 25, 2016 with an Opening Reception on Friday, May 13 from 5:00 to 7:00 PM at David Richard Gallery, located at 1570 Pacheco Street, Suite A1, Santa Fe, NM 87505, phone: 505-983-9555.
"The aesthetic of Christian Haub, Matthew Kluber and Matthew Penkala, while working in different media, all possess a relation in terms of color theory and optical effects," notes gallery director David Eichholtz. "With this exhibition we have the excitement and privilege of introducing several new artists into our program who are pushing the envelop in technology and imagery."
Anne Farrell, Matthew Kluber and Noah Klersfeld, work with digital programming to create kinetic patterns. Farrell explores a multitude of image manipulation, utilizing drawings, photographs, graphics and live action video, resulting in an almost painterly visual experience. In Kluber's case there is a unique image created at the interface between a painted surface and the projected computer-generated patterns moving across the fixed image. Klersfeld also begins with a static 'support' – video images of bathroom tiles, shower curtains and chain-link fencing that is then fed into a program where each individual image component becomes part of a rhythmic and rapidly moving video display.
Analog meets digital in C. Alex Clark's video work. Out-moded, cast off televisions are resurrected and reinvigorated through a mutation with digital imagery. There is a sculptural presence to the work that provides an environmental aspect in conjunction with the images.
Chase Stafford's work references the Light and Space movement of the 60s and 70s, whose major protagonists were Robert Irwin, Larry Bell, Bruce Naumann, James Turrell and John McCracken. His current video work pays homage to the spatial manipulation of Dan Flavin's Minimalism, but rather than immersing the viewer in the visual experience, the viewer participates through the physical interruption of the projections.
Christian Haub's Plexiglas constructions appear to be illuminated from within, but that illusion is the result of how the colored and clear plexi refract and diffuse the light. The pieces are constructed with only horizontal and vertical elements, yet create diagonals of color from cast shadows that lend a dynamic movement and an ambient environment akin to James Turrell's light constructions.
Being acrylic on canvas, Matthew Penkala's work comes closest to traditional painting, but is firmly rooted in abstract photography. The void is an important compositional element, emphasized by the diffusion of highly-keyed color and accented by a harder-edged application of black. The result is a shimmering surface akin to visual effect of radiating heat.
About David Richard Gallery:
David Richard Gallery is located at 1570 Pacheco Street, Suite A1, Santa Fe, NM 87505, P: 505-983-9555. Since its inception the gallery has produced museum quality exhibitions that feature Post War abstraction in the US. The presentations have addressed specific decades and geographies as well as certain movements and tendencies. While the gallery has long been recognized as an important proponent of post-1960s abstraction—including both the influential pioneers as well as a younger generation of practitioners in this field— in keeping with this spirit of nurture and development the gallery presents established and very new artists who embrace more gestural and representational approaches to the making of art as well as young emerging artists.
In 2015 David Richard Gallery launched DR Projects to provide a platform for artists of all stripes—international, national, local, emerging and established—to present special solo projects or to participate in unique collaborations or thematic exhibitions. The goal is to offer a fresh look at contemporary art practice from a broad spectrum of artists and presentations.