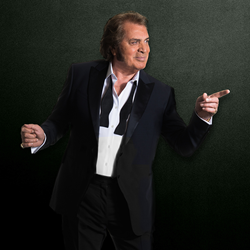 New York, NY (PRWEB) April 29, 2016
International music legend Engelbert Humperdinck will be celebrating his 80th birthday on Monday, May 2nd. In celebration of this milestone birthday, OK!Good Records has released a surprise 80th birthday greeting video featuring some of Engelbert Humperdinck's famous friends and duet partners from his critically acclaimed album "Engelbert Calling."
The birthday greeting video features well wishes from Larry King, Micky Dolenz, Alan Thicke, Nigel Lythgoe, Gloria Gaynor, Robin Leach, Jack Jones, Tommy Roe, BJ Thomas, Tony Orlando, Pat Boone, Petula Clark, Marilyn Michaels, Gilbert O'Sullivan, Sam Bailey, Doug Sanders, and Mauricio Herrera. It also includes greetings from four duet partners from "Engelbert Calling" including Olivia Newton-John, Neil Sedaka, Kenny Rogers, and Ron Sexsmith.
In addition to a birthday celebration, it is also a celebration of Humperdinck's remarkable career which has spanned for nearly five decades. He has sold more than 150 million albums world-wide, including 24 certified with platinum status and 63 with gold. At 80 years old, Engelbert Humperdinck still maintains a rigorous touring and recording schedule, and has solidified his name as both an international pop legend and one of the world's most influential artists.
About OK!Good Records:
OK!Good Records is a genre independent record label established in 2010 to distribute, market, and promote artists and music that defy boundaries, reject limitations, and transcend the ordinary. They champion and celebrate independent music, thought, art, expression, and enterprise. http://www.okgoodrecords.com