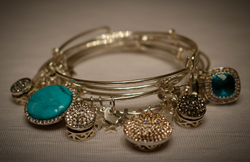 Kalypso TwistZ's unique interchangeable jewelry makes us one of a kind in jewelry design.
Marietta, Ohio (PRWEB) May 04, 2016
Kalypso TwistZ is a direct sales company specializing in interchangeable jewelry. This one of a kind jewelry includes patented designs and patent pending technology for its interchangeable jewelry. The jewelry contains a screw mechanism that allows the buyer to interchange their jewelry with just a "TwistZ". Wear it as a ring today and a pendant tomorrow. The options are only limited to your imagination! Through the new re-launch, Kalypso TwistZ highlights this fact and differentiates themselves from other jewelry companies that cannot make the same claim.
The company has taken many strides in the preceding months to create a solid foundation to support massive growth. Along with providing the ability for financial freedom, they also now proudly offer health care coverage.
"Even though our official launch was in 2014 we were still new to the industry and had to work on creating a solid foundation. We now have the correct tools and collateral in place to soar. Joining the DSWA in the last month was one of our final steps in preparing for our re-launch," said Kaitlyn McAlarney- Director of Operations.
The company was officially started in 2014 by mother and daughter Cheryl and Kaitlyn McAlarney. They started the company to share their passion of jewelry and business with other mothers and daughters and to empower and help women just like them have financial freedom.
"I am proud of where this company started and what is has grown into. I am thrilled to be able to now share the opportunity of Kalypso TwistZ on an even larger scale with this relaunch. I want to empower others so that they have the ability to supplement or make a full time income!" stated Cheryl McAlarney CEO and President.
The company's mission is to provide a successful business opportunity for every woman and man by providing a simple, easy to understand, affordable investment toward their future. The company's website http://www.kalypsotwistz.com contains additional information.