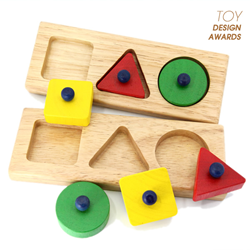 Como, Italy (PRWEB) April 29, 2016
On April 15, A' International Toy, Games and Hobby Products Design Awards, annually organized by A' Design Award & Competition, the world's largest and most international design competition, announced winners of the 2015 - 2016 period from all over the globe.
The A' International Toy, Games and Hobby Products Design Awards winners are selected and announced every year from the great amount of submissions from more than 80 countries. Best designs, products and concepts worldwide that demonstrate excellence in design, technology and creativity are rewarded with the A' Design Award Trophy. This year, Grow'n Up R&D Team wins Platinum in A' International Toy Design Awards with the Qwikflip 6-IN-1 Activity Center, while Green Science by 4M Industrial Development Limited and Braille Blocks by Alessandra D'Alessio and Alyssa Vani has been selected as a winners of the Golden A' Design Award. For more details on the A' Toy Design Award winner, please visit the online gallery of A' Design Award winners.
Laureates will receive the invitation to attend the gala-night and award ceremony in Como Lake, Italy where they are called to stage to collect extraordinary 3D printed trophies, excellence award certificates and annual yearbook of designs. Winners are also becoming a part of the exclusive event of "best designs of the year" exhibition that showcase 2016 winning works. Moreover, every winner of the A' International Toy, Games and Hobby Products Design Awards is entitled to the A' Design Prize - a highly coveted and comprehensive winners' kit including among the trophy, certificate and book, an extensive PR and marketing services such as translation of award winning works to dozens of languages, press release preparation and distribution among multiple design media.
While the 2015 - 2016 Edition is over, entries to the 2016 – 2017 period competition is now open; interested designers, artists, architects and interior companies could register and submit their works or obtain further information regarding the design competition.
About A' International Toy, Games and Hobby Products Design Awards
A' International Toy, Games and Hobby Products Design Awards, annually organized by A' Design Award & Competition, was established to create awareness for good design principles and practices. Therefore, the A' International Toy, Games and Hobby Products Design Awards aims to build strong incentives for designers, companies and brands from all countries to come up with better products, services and systems. Hence, A' International Toy, Games and Hobby Products Design Awards highlights and pushes forward worldwide designers and brands to create products and projects that offer additional value, increased utility and remarkable performance. Learn more about A' Design Award at http://www.whatisdesignaward.com