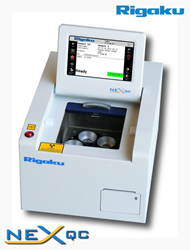 San Juan, Puerto Rico (PRWEB) April 29, 2016
Applied Rigaku Technologies, Inc. (ART) is pleased to announce its attendance at the 2016 American Wood Protection Association (AWPA) Meeting. The AWPA is a non-profit organization which promotes standards for all facets of wood preservation. The 112th Annual Meeting will take place May 1-3, 2016 at the Condado Plaza Hilton in San Juan, Puerto Rico.
ART will be presenting the current line of energy dispersive X-ray fluorescence (EDXRF) instrumentation and wood treatment solutions from Rigaku. On display will be the Rigaku NEX QC low-cost benchtop EDXRF analyzer, an AWPA standard A9 compliant analyzer that combines established functionality with exceptional versatility.
Optimized for routine determination of a variety of treatment formulations, the NEX QC system features an easy-to-use software interface in a robust package specifically designed for the wood preservation industry. The advanced technology employed in the NEX QC means that no customization of the instrument is required to accommodate different applications; it is suitable for analyses of a wide range of treatments, preservatives and pigments.
For online monitoring of treatment solutions, Rigaku offers the NEX OL Process Elemental Analyzer. The NEX OL analyzer enables real-time process elemental analysis for liquid stream applications.
More information about EDXRF / XRF analysis for Wood Treatment can be found at http://www.rigakuedxrf.com/edxrf/wood.
About Rigaku
Since its inception in Japan in 1951, Rigaku has been at the forefront of analytical and industrial instrumentation technology. Rigaku and its subsidiaries form a global group focused on life sciences and general purpose analytical instrumentation. With hundreds of major innovations to its credit, Rigaku and its subsidiary companies are world leaders in the fields of small molecule and protein crystallography, X-ray spectrometry and diffraction, X-ray optics, as well as semiconductor metrology. Rigaku employs over 1,100 people globally and its products are in use in more than 70 countries – supporting research, development, production control and quality assurance activities. Throughout the world, Rigaku continuously promotes partnerships, dialog, and innovation within the global scientific and industrial community.
For further information, contact:
Robert Bartek, President
Applied Rigaku Technologies, Inc.
tel: +1. 512-225-1796
info(at)RigakuEDXRF(dot)com