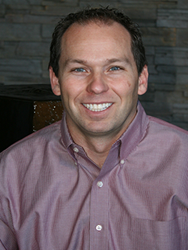 Cortez, CO (PRWEB) April 29, 2016
New patients from Cortez, CO who have periodontal disease are now welcome to schedule appointments to receive laser dentistry treatment at Dr. Mason Miner's nearby Durango, CO office. New patients from Cortez, CO are no longer required to have a referral to receive qualified laser dentistry care. Dr. Miner is experienced in the use of laser dentistry and utilizes the BIOLASE WaterLase® iPlus™ treatment system for a variety of oral conditions, including gum disease and frenectomies.
Patients with periodontal disease have traditionally only had limited treatment options available to them, including manual removal of infected portions of gum tissue with scalpels and other sharp tools. Dr. Miner now utilizes cutting-edge laser dentistry near Cortez, CO to treat diseased gum tissue in a quick and minimally-painful way. Rather than using hand-held scalpels and other tools to manually cut away infected tissue, Dr. Miner uses the BIOLASE WaterLase® iPlus™ laser to target and remove the tissue with pulses of laser energy. The laser utilizes a combination of water and laser energy to make treatments as comfortable and effective as possible. Laser dentistry treatments are very effective at pinpointing inflamed tissue without causing harm or trauma to the healthy gum tissue around it.
This laser technology is efficient, precise and minimally-invasive, allowing those who receive laser dentistry treatments for their gum disease symptoms, to typically return to their normal activities more quickly than those who undergo other methods. The risk of procedural or post-operative complications has also reduced among patients who undergo laser treatments over other treatment types. The minimal risk of complications is due in part to the device's ability to thoroughly disinfect and clean the treatment area by utilizing the power of water and laser energy.
Patients in need of laser dentistry in Cortez, CO, are now welcome to receive BIOLASE WaterLase® iPlus™ treatments at Dr. Miner's nearby practice in Durango, CO. Individuals are invited to set up their periodontal disease treatment appointments or learn more about laser-based procedures by calling 970-306-0535 to speak with a team member.
About the Doctor
Dr. Mason Miner is a general dentist offering personalized dental care for the entire family, in Durango, CO. Dr. Miner is a graduate of Marquette University School of Dentistry in Milwaukee, Wisconsin. Beyond that, he also completed training in Advanced Education in General Dentistry at the University of Missouri, Kansas City. Dr. Miner focused his studies on the surgical placement and restoration of dental implants, which he offers as a service at his practice. Dr. Miner is a member of the American Academy of Facial Esthetics, American Dental Association, the Colorado Dental Association and the San Juan Basin Dental Society. To learn more about the services offered by Dr. Miner, please visit his website at http://www.masonminerdds.com or call (970) 306-0535 to schedule an appointment.