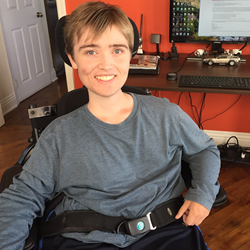 (PRWEB) April 29, 2016
Coalition Duchenne, a Newport Beach, California based charity committed to raising awareness for Duchenne muscular dystrophy, and funding for Duchenne research, participated in the April 25 U.S. Food and Drug Administration advisory committee hearing on the efficacy of the Sarepta Therapeutic's novel Duchenne drug eteplirsen. The meeting at the Marriott Conference Center in Hyattsville, Maryland was attended by over than a thousand people – patients, parents, patient advocates, scientists, doctors, politicians, care givers, as well as company's with an interest in the Duchenne space. After eleven hours, in a split vote, the advisory committee recommended against approval. The FDA will now decide how much emphasis will be afforded patient advocacy and experiential testimony compared to the information presented to the committee. Dr. Janet Woodcock, the agency's top drug evaluator, took the time to follow up with several parents, and boys and young men with Duchenne, following the vote.
"In my opinion, at times Monday's meeting felt more like a cross examination in a criminal case than a discussion about the efficacy of a promising treatment for Duchenne. As the clinical data on eteplirsen was scrutinized, minor details became exaggerated and were considered to be relevant by the panel. Examples were the doubts expressed about validity of the Six Minute Walk Test (6MWT), and one panelist's claim that boys with Duchenne can walk if they put their minds to it," said Coalition Duchenne Founder and Executive Director Catherine Jayasuriya. "I felt that some of the panel misunderstood the complexity of the Duchenne situation."
Catherine continued, "I advocate for the generation of boys who have lived the natural progression of the disease. When Duchenne is left untreated, the progression is cruel and relentless. My 23-year-old son Dusty Brandom will not benefit from eteplirsen but would benefit from the follow on drugs targeting other exons once approval is made. Dusty has been waiting for this treatment ever since we funded Dr. Steve Wilton's oligos work at the University of Western Australia through the Dusty Brandom Fellowship in 2004. It feels like Dusty has been hanging on to a cliff, but now it is just by his fingertips. We risk losing a generation of boys including my precious son. We really are running out of time."
"The judgment made at the 11th hour literally felt like a series of bullets that wounded our Duchenne community. But we don't fall easily. In spite of my sadness and disappointment, I do have hope, because Dr. Woodcock, in her opening remarks, reminded the panel of the harm that could be done by failing to approve a drug that does work. She seemed empathic. After the meeting I thanked her and gave her a copy of my documentary 'Dusty's Trail: Summit of Borneo' and she said that she would watch it. This is just one young man's story - we must help the tens of thousands of boys and young men like Dusty," Catherine concluded.
Senator Marco Rubio called on the FDA to approve eteplirsen in a speech to Congress on April 28 (https://youtu.be/pczSwOj8-Bc). The FDA is scheduled to rule on eteplirsen by May 26.
About Coalition Duchenne
Coalition Duchenne was founded in 2011 to raise global awareness for Duchenne muscular dystrophy, to fund research and to find a cure for Duchenne. Coalition Duchenne is a 501c3 non-profit corporation. Its vision is to change the outcome for boys and young men with Duchenne, to rapidly move forward to a new reality of longer, fulfilled lives by funding the best opportunities for research and creating awareness.
Coalition Duchenne has several research initiatives that are making advances in potential cardiac and pulmonary treatments for sufferers of Duchenne muscular dystrophy. These include the pioneering collaboration with a team at Cedars-Sinai Medical Center in Los Angeles, California, led by Eduardo Marbán MD, PhD working on cardiac-derived stem cells and exosomes in Duchenne. This technology has been licensed by Capricor Therapeutics and they have launched an FDA trial. Coalition Duchenne was also instrumental advancing Phrixus Pharmaceuticals' novel therapy Carmeseal. Phrixus recently announced a preclinical study showing strong results that showed Carmeseal protecting both skeletal and cardiac muscle in Duchenne.
For more information about Coalition Duchenne, visit coalitionduchenne.org.
About Duchenne muscular dystrophy
Duchenne muscular dystrophy is a progressive muscle wasting disease. It is the most common fatal genetic disease that affects children. Duchenne occurs in 1 in 3,500 male births, across all races, cultures and countries. Duchenne is caused by a defect in the gene that codes for the protein dystrophin. This is a vital protein that helps connect the muscle fiber to the cell membranes. Without dystrophin the muscle cells become unstable, are weakened and lose their functionality. Life expectancy ranges from the mid teenage years to age 30.