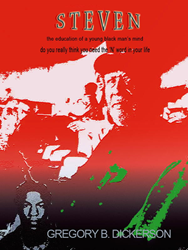 Gregory Dickerson's book, STEVEN, shows young people the ugly way of seeing behind the N word.
Staten Island, NY (PRWEB) April 29, 2016
Gregory B. Dickerson, the author of STEVEN, wears many hats; however, the title of author was unforeseen until he began writing from his gut and his heart. Dickerson, a familiar face on Staten Island's basketball hardwoods as a referee, was disgusted when he heard two young black men standing on a corner in Brooklyn use the "N" word about 20 times in two minutes.
"I have strong beliefs of right and wrong, and the use of the "N" word is wrong," Dickerson said. "There is no way about it. I don't think anybody here on earth can debate me about that. The major motivation is to prove a wrong and get the user and non-user to talk about it."
These beliefs about about the denigrating use of the N word was discussed with students and administration at Susan Wagner High School. The young people present were affected as they heard Dickerson speak about the historical context and pain of this word, which is chronicled in his book, STEVEN.
With a riveting prose style, STEVEN transports the reader to pre-civil rights era American south where the main character experiences first hand the racist implications of the N word.
Boulevard Books is an educational publishing company founded in 2010 by author and educator Avi Gvili