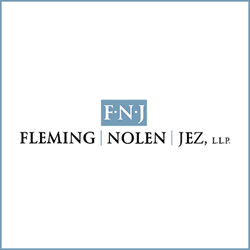 Houston, TX (PRWEB) April 29, 2016
On April 27, 2016, George Fleming, Managing Partner of the Houston-based law firm Fleming | Nolen | Jez, L.L.P., participated in the faculty awards ceremony at St. Agnes Academy ("SAA"). The Academy, opened in 1906, provides young women with a Catholic college preparatory education and encourages them to develop intellectual curiosity, work for social justice, and act with integrity and compassion.
Fleming established two funds in 2008 to award SAA faculty for exceptional performance. The first, "The Fleming Award for Teaching Excellence," is given annually to two persons chosen by school administration as Outstanding Teaching Faculty Members for that year.
The second, "The Fleming Award for Teaching Excellence," supports educational opportunities that are meant to enrich the faculty member, who will in turn share their experience with the student body and enrich SAA's student body. For example, this fund has been used by an English teacher to visit the cities where Cervantes, Rilke, and Dante lived; a History teacher to visit the American Indian Museum in Washington, DC to enrich her knowledge and understanding of the Native American history and culture; a Geology teacher to travel to the Galapagos Islands to "walk through geological time;" and a Performing Arts teach to pursue a Masters of Arts Degree in Performance Theater to enhance classes and productions at the Academy.
Both awards were created in memory of Fleming's father, George McMillan Fleming, Ed.D. Born in Flagstaff, Arizona, he received his Bachelor's degree in Education at Arizona State University and became a teacher at a school in Florence, Arizona, where he taught primarily the children of American Indians and migrant farm workers. When World War II broke out, he enlisted, along with his four other brothers, in the military. He was assigned to Ellington Air Force Base as a pilot instructor. Dr. Fleming had a lifelong love affair with education. He earned a doctorate in education from the University of Houston.
"Even though my Dad went on to be a successful hospital administrator at The Methodist Hospital in Houston and the Santa Rosa Hospital in San Antonio, and became President of the Texas Hospital Association, he always maintained his love of education, teaching, and teachers" said George Fleming.
Fleming | Nolen | Jez, L.L.P. is a personal injury law firm based in Houston, Texas, serving clients nationwide. Founded in 1981, the firm focuses on representing individuals in civil trials and appeals.