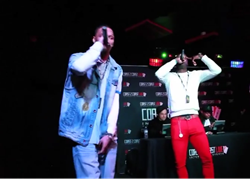 Only cash rules and that's the only rule.
Atlanta, GA (PRWEB) May 04, 2016
Only Cash Rules Records highly-anticipated debut project, 14k the EP, is officially for purchase. With Slay Kuban's versatile mid-west delivery and Point Blank's atlien east-coast lyrics, music lovers around the world are sure to be satisfied with this epic EP. The title of the EP stemmed from a 14 hour studio session that was golden, hence the name 14k.
Each song ranges from religion, political issues, love, equality, joyfulness, economic change and lyrical content. Point Blank brings a positive but gutter outlook on songs like "Point Blank" and "Lonely Road", which are his debut singles. Point Blank is very direct and confident in his lyrical ability. Slay Kuban brings the melody and today's economic struggles on songs such as "Promethazine Papi" and "Promo Tour", which are his singles off of the 14k EP project.
Definitely check out Only Cash Rules Records exclusive interview shot by Bird's Eye View Films during the recording of 14k the EP.
Only Cash Rules Records premiered their single "Trap Dead", produced by Metro Boomin, on Ray Daniels A105 tune-in internet radio station. Also, Only Cash Rules Records featured "Trap Dead" on the Future Purple Tour mixtape presented by Galafati Music Group and Condradz Productionz. Only Cash Rules Records is scheduled to perform, May 7th, in front of an estimated audience of over 200,000 at Atlanta's Sweet Auburn Music Festival, the largest free outdoor festival in the southeast U.S.