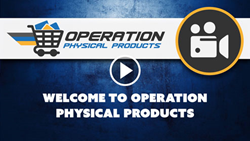 It is a game changer.
Valencia, California (PRWEB) April 28, 2016
Rapid Crush, Inc. has introduced a new online course designed to help businesses of all shapes and sizes successfully sell their products on Amazon, the company said today.
Doland White, CEO of Rapid Crush, said, "We are delighted to introduce Operation Physical Products (OPP). This is a real game changer for all businesses with ambitions to successfully grow an Amazon-based business. It represents years of our combined expertise in this area, and a unique collaboration with our partner and friend Ezra Firestone."
The course modules are released over a 10-week period, one module at a time. Rapid Crush partnered with course leader Ezra Firestone, who presents a proven, step-by-step approach to building a successful Amazon-based business.
The course curriculum is built around several thousand pages of feedback from Amazon sellers and real world stories, and the practical expertise of Rapid Crush co-founders Jason Fladlien and Wilson Mattos.
Fladlien and Mattos commented, "OPP is truly unique in the market – it's not a static approach at all. We bring dedicated and ongoing support to drive our customers' success." That world-class service and support includes:

Cutting edge marketing expertise with Smart Marketer
Group coaching with Ben Cummings
A cutting edge suite of optimization software
Lifetime access to hundreds of videos, PDFs, and standard operating procedures (SOPs)
According to Mattos, this is the first of a number of new leadership products that Rapid Crush will soon release. Mattos said, "We are totally committed to our customers' business success. We know that when they grow, we grow and when they win, we win. There's much more on OPP and other Rapid Crush innovations coming very soon."
The company was founded in 2011 by Jason Fladlien and Wilson Mattos and operates globally.