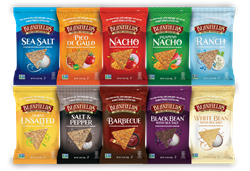 Boulder, Colorado (PRWEB) May 02, 2016
Beanfields, PBC, makers of Beanfields Bean and Rice Chips, is continuing its traditions of innovation by partnering with college students at University of Colorado in Boulder to create new advertising campaigns.
Adjunct professor, Jared Levy, led the CU-Boulder senior level advertising campaigns class in the School of Journalism, who selected Beanfields as the brand on which to focus their semester-long project. The class researched, strategized, and presented their advertising campaigns to the Beanfields Snacks executive team. The students created overarching campaigns with a focus on leveraging social and digital marketing. The Beanfields team used some of their ideas in the redesign of their packaging.
The class's pairing with Beanfields is a perfect fit for a brand that listens and responds to its audience. Beanfields is committed to disrupting the snack industry's widespread use of cheap filler and empty caloric ingredients by using a highly sustainable and healthy protein source— beans. Beanfields Bean & Rice Chips are all vegan, gluten free, Non-GMO Project Verified, kosher, and allergy-friendly - all while offering great taste, competitive price points and exciting flavors. Beanfields presents a formidable challenge to conventional snack brands.
College students in the class surveyed 500 fellow students on their thoughts and snacking habits in order to best learn to how to market to them. With their market research, the classmates created reports and briefs with findings, insights, and strategy; and developed creative campaigns based on real ideas from consumers.
The CU-Boulder partnership is in collaboration with San Francisco-based Guru Media Solutions and Los Angeles-based Beanfields. Past companies that have partnered with the class include Jamba Juice, 1% For The Planet, LunaBar and others.
About Beanfields
Beanfields Snacks, makers of Beanfields Bean and Rice Tortilla Chips, is a family-owned Public Benefit Corporation and Certified B Corp. Beanfields bean and rice chips indulge your taste buds in every delicious crunch with ten tempting flavors: Sea Salt, Nacho, Pico de Gallo, Jalapeno Nacho, Black Bean and Sea Salt, White Bean and Sea Salt, Barbecue, Ranch, Salt n' Pepper, and Unsalted. Beanfields Chips are always Vegan, certified gluten-free, Non-GMO Project Verified, kosher, and allergy-friendly. Beanfields bean and rice chips can now be found in all 50 states and internationally in Canada, Australia, the U.K., and other countries. Full-sized bags of Beanfields Bean and Rice Chips suggested retail price is $2.99-$3.99. Snack-sized bags are $1.19-$1.49.
About CU-Boulder Senior Level Advertising Campaign Class
The advertising campaigns course is the final required class advertising majors take. It is designed to give them a chance to put into practice everything they've learned about strategy and creative. The class has 18 students in it and they work in three teams of six.