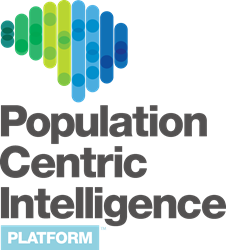 "We set out to fill a critical void in healthcare by delivering intelligence which answers countless questions not available in the EMR, but are essential to shaping and implementing care." - Jon Pelzer, Chief Product Officer
Austin, Texas (PRWEB) April 07, 2016
CentraForce Health, a population-centric intelligence provider, is pleased to announce the release of four new PopulationCentric Intelligence Platform products. Community2, Population2, Patient2 and Provider2 are web-based or API-accessible and offer up to 150,000 insights that span across 48 major data categories which encompass 245,000,000 lives.
CentraForce Health Chief Product Officer, Jon Pelzer says, "We set out to fill a critical void in healthcare by delivering intelligence which answers countless questions not available in the EMR or even HIEs, but are essential to shaping and implementing care, risk management and life science efforts. CentraForce Health has developed a process that is outside the bounds of HIPAA while delivering interoperability within the EMR."
Introducing the PopulationCentric Intelligence Platform Product Suite:
Community2: profiles all people within a specified geographic range. It offers dynamic and geographically scalable access to thousands of community-level population health profile insights, reports and maps. Community2 enables users to understand any community across the specific data elements that are crucial to ascertaining disparities, identifying market development opportunities and shaping outreach and engagement strategies.
Population2: profiles all people who fit a precise description within a specified geographic range. For example, Population2 could profile all Medicare Advantage patients within an a given geography. It offers dynamic and geographically scalable access to thousands of population-centric profile insights, reports and maps for any defined such as populations defined by conditions, payers, providers, attitudes and more.
Provider2: allows users to locate, reach and profile physicians within a market area for recruitment, risk management, market, program development and engagement purposes.
Patient2: profiles de-identified patient records. It is a revolutionary and compliant platform that uses de-identified technologies to create linkage between patient records (in the EMR) and their local market profiles. It allows health professionals to generate and act upon care insights for any patient group they select on their own internal technologies.
Third Rock, Incorporated, an Austin, Texas based HIPAA Compliance and Risk Management company performed a privacy review of the system design of CentraForce Health's Patient2 platform to ensure the confidentiality of patient Protected Health Information (PHI) is maintained.  "CentraForce Health has done an excellent job in creating a healthcare application that provides population-centric insights without introducing PHI into their PopulationCentric Intelligence Platform: Patient2.  It's an elegant solution that allows healthcare to utilize demographics and securely limits the exposure of the patient's PHI" commented Robert Felps, CEO of Third Rock.
"The PopulationCentric Intelligence Platform allows clients to engage with their populations at a variety of levels so they can rapidly deploy intelligence and improve outcomes," states Charles Boicey, MS, RN-BC, CPHIMS. "CentraForce Health's intelligence fills in many of the gaps we frequently see within the EMR. This is a much-needed tool."
About CentraForce Health: http://www.centraforcehealth.com/
CentraForce Health's proprietary products are rooted in more than two decades of market-specific and population-centric projects within life sciences and consumer sectors. CentraForce Health delivers a unique, valuable and geographically spatial view of populations through the PopulationCentric Intelligence Platform.