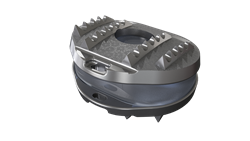 Our clinical outcomes with this disc are better than what we've experienced with the ProDisc-L, the Maverick Disc and also the Kineflex disc.
Boston, MA (PRWEB) May 03, 2016
AxioMed, LLC announced today that orthopedic surgeon, Dr. Kenneth Pettine, has called the AxioMed Freedom® Disc, "Without question the best artificial disc there is," in a recent video testimonial. He is the first U.S. surgeon to share about his clinical experience with the AxioMed Disc on video. Dr. Pettine has over a decade of total disc replacement clinical experience, and AxioMed's Freedom® Disc is one of several total disc replacements he has implanted in patients.
Dr. Pettine, a board-certified, fellowship-trained, spine surgeon with extensive background in spine surgery, research and rehabilitation, is an outspoken proponent of non-fusion surgical options. The author of over 20 research publications, he has served as the principal investigator for 15 FDA studies involving non-fusion implants, biologics and stem cells. He began using total disc replacements in 2003 and implanted his first AxioMed Freedom disc in 2010.
"Our clinical outcomes with this disc are better than what we've experienced with the ProDisc-L, the Maverick Disc and also the Kineflex disc," Dr. Pettine said when speaking about the AxioMed Freedom® Lumbar Disc. He credits the Freedom Disc's superior performance to its physiological design. "One of the problems with all the artificial discs, other than the Freedom Disc, is that they don't have any constraint rotation. And they actually move more than a usual artificial disc does. And because of that –patients in the long run with, say a ProDisc-L, develop facet problems. The Freedom Disc, on the other hand is constrained rotation."
When Dr. Pettine talks about constrained rotation, he's pointing out the AxioMed Freedom Disc's special viscoelastic polymer core that mimics the natural motion, flexibility and stiffness of a human disc. The Freedom Disc is designed as a one piece technology, versus the prevalent ball and socket designs of other total disc replacements, which can provide too much movement in the spine.
"The natural movement of this disc is quite an achievement for a spine technology, and is something the Freedom Disc is able to provide because of its patented polymer core," said AxioMed President Jake Lubinski. "We are seeing high patient satisfaction, glowing surgeon reviews and strong clinical evidence. All of this continues to compel us on our mission to bring the Freedom Disc to the U.S. market."
So far, clinical studies of the AxioMed Disc are progressing well. AxioMed is hoping to complete its lumbar disc clinical trials and launch the technology on the U.S. market by next year.
About Dr. Kenneth Pettine
Dr. Pettine is featured as one of Becker Spine Review's 36 Spine Surgeons Performing Artificial Disc Replacement. He founded the Orthopedic Stem Cell Institute in 2011 and co-founded Rocky Mountain Associates in Orthopedic Medicine in 1991 and the Spine Institute in 2004. He also founded Rocky Mountain Spine and Orthopedics in 2015. Dr. Pettine completed his residency and master's degree in orthopedic surgery at the Mayo Clinic and holds a medical degree from the University of Colorado School of Medicine.
About AxioMed
Founded in 2001, AxioMed has exhaustively proven the efficacy of its Freedom® Cervical and Lumbar Discs through research, development and testing of the lumbar disc in the USA and both the lumbar and cervical discs in Europe. In 2014, KICVentures recognized the disc's enormous potential and acquired the company into their healthcare portfolio. AxioMed owns an exclusive license for spine application of the unique and proprietary viscoelastic material used to manufacture the Freedom Disc technology.
About KICVentures
KICVentures manages several portfolio companies (including AxioMed, LLC), investing in disruptive technology in the health-tech sector. KICVentures acquires, creates, and nurtures companies and their technologies to their fullest potential.