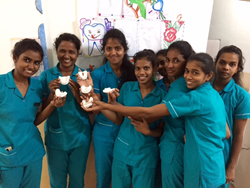 Las Vegas, NV (PRWEB) April 29, 2016
Dr. Dawn McClellan, an experienced pediatric dentist in Las Vegas, NV, is the co-founder and president of Dental Care International (DCI), a non-profit organization focused in Ecuador and Sri Lanka, with an office location in Las Vegas. Recently, Dr. McClellan led the Sri Lanka Outreach Program. DCI offers a residential Dental Surgery Assistant program to young girls in Sri Lanka as well as a full-time dental clinic in Sri Lanka and mobile outreaches in Ecuador. Through this international outreach program, Dr. McClellan, and the entire DCI team, have been able to provide meaningful education to those who have overcome truly tremendous obstacles.
Over the past three years, the DCI team in Sri Lanka has taught, molded and graduated 29 girls who have become successful dental assistants. As a respected pediatric dentist in Las Vegas, NV, Dr. McClellan is pleased to help young girls learn useful skills and gain experience in dental assisting. All of the girls who participate in the program are from children's homes across Sri Lanka, and most of them have overcome incredible difficulties such as poverty, abuse and war.
Students who enroll in the dental assistant training program are sponsored by dentists and friends of DCI in the United States. The program lasts for one year and is a residential course intended to help graduates perform dental assistant duties with confidence. These girls are given an extraordinary opportunity to change their lives and improve their futures by graduating through this program. During Dr. McClellan's recent visit to Sri Lanka, she and another board member visited girls at children's homes and interviewed new candidates for the coming year, which starts in August, 2016. During their visit, they secured externships for their current class as well. Before returning, they were also able to visit their recent graduates on their work sites in clinics, hospitals and private offices. From orphanages to professional dental assistants in one year, these courageous young women are living proof of the success of this remarkable program.
As a pediatric dentist in Las Vegas, NV, Dr. McClellan also offers pediatric dentistry services that may be scheduled by calling her practice. Those who would like to learn more about Dental Care International or are interested in offering support for the program are invited to visit their website at http://www.dcare.org.
About the Doctor
Dental Care International (DCI) is a 501(c)(3) nonprofit organization dedicated to increasing access to dental care and providing dental services to the disadvantaged and neglected areas of the world. DCI was founded by Dr. Dawn McClellan and Mike PeQueen in 2001. DCI offers a one year residential Dental Surgery Assistant (DSA) Training Program near Kandy, Sri Lanka where girls who have survived abuse, neglect, poverty, and tragedy, are afforded an opportunity to receive training and later find work in hospitals and clinics across Sri Lanka. DCI has also made an impact in Cuenca, Ecuador since 2009, where a team of volunteers visit to provide dental services to rural school children. The DCI team is not only helping areas in need internationally, but locally as well, offering comprehensive pediatric dentistry and orthodontic services at their clinic in Las Vegas, NV where they provide increased access to dental care for the underserved and working poor in the community. To learn more about DCI, how to sponsor a student, volunteer or donate, please visit http://www.dcare.org or call (702) 272-1100 for more information.