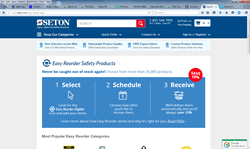 Branford, CT (PRWEB) May 03, 2016
Seton, a leading supplier of safety and identification products, has launched a new service that will let their customers experience an Easy Reorder process for safety supplies that they use the most.
With Easy Reorder, customers can sign up to receive automatic deliveries of their safety products, from labels and first aid supplies to personal protective equipment (PPE) and safety tags.
And with each order, customers receive 10% off—with every reorder.
Creating an Easy Reorder for an item is simple. It can be done while browsing on a product page or while reviewing items in the shopping cart. To subscribe, customers need to simply select the Easy Reorder option for the desired product, select the preferred shipment frequency, and check out as normal.
Once customers join the Easy Reorder program, they will receive an email confirming their Easy Reorder. That email will include a link to access "Manage Easy Reorder," where they can manage future orders, items and account information, online at seton.com.
"We created Easy Reorder to help make it easier for our customers to reorder those essential safety supplies they use every day," said Jennifer Sledziona, Website Manager for Seton.com. "This will ensure they never run out—even if they forget to place an order—plus all orders receive a discount, as well."
Customers who use Easy Reorder are billed on the day their orders are shipped. They will receive an email reminder 10 days prior to each order. Customers can expect to receive email notifications regarding other important information related to their Easy Reorder account, such as order placement confirmations, item discontinuations or cancellations.
Customers can also skip an Easy Reorder shipment and change their delivery frequency, as needed.
For more information about Seton Easy Reorder, visit http://www.seton.com/easy-reorder-faqs
##
Seton has been the source for workplace safety products for nearly 60 years. Seton offers more than 115,000 products that meet the safety, identification and regulatory compliance needs of its global customers that serve a variety of industries, including manufacturing, construction, services, education, wholesale trade and retail trade. For more information, visit http://www.seton.com/.