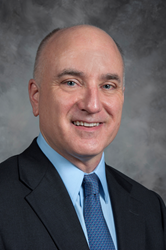 We are, conceptually, rewriting the book on surgical timing for diaphragmatic hernia
St. Petersburg, Fla. (PRWEB) April 29, 2016
A new study by a Johns Hopkins All Children's Hospital surgeon reveals that infants born with severe congenital diaphragmatic hernia have better survival rates if surgery is performed early. Approximately one in every 3,000 babies is born with congenital diaphragmatic hernia (CDH)—a condition where the diaphragm fails to form completely, letting abdominal organs into the chest cavity and ultimately obstructing lung growth.
In the April issue of the Journal of the American College of Surgeons, lead author, David Kays, M.D., explains that typically, after birth, these infants are put on a ventilator, resuscitated, and if they get better, they undergo surgery to repair the congenital diaphragmatic hernia at four to six days of life. While this delayed repair is appropriate for many newborns, Kays the director of the new Congenital Diaphragmatic Hernia Program at Johns Hopkins All Children's Hospital, explains the new study shows the more severe the child is, the earlier the repair should occur.
"We are, conceptually, rewriting the book on surgical timing for diaphragmatic hernia," says Kays. "We have found that the more severe these babies are, the less they benefit from delay of repair. So, based on liver position, lung size before birth and lung function after birth, we identify the most severe patients, and when indicated, we offer parents the option of early repair in the first four to 12 hours of life. Performing the repair before they need ECMO (extracorporeal membrane oxygenation), a form of heart-lung bypass often required for severe CDH, gives them a distinct survival advantage."
While the national survival rate for these severe cases of congenital diaphragmatic hernia is only 30 to 40 percent, Dr. Kays and his team achieved better than 90 percent survival with early repair before ECMO in severe CDH. Dr. Kays is the only physician in the world performing early repair of CDH based on scientific measurement of disease severity.
Read the study in the Journal of the American College of Surgeons: http://www.journalacs.org/article/S1072-7515(16)00050-8/fulltext#sec4
Funding for the study was provided by the National Institutes of Health's National Center for Advancing Translational Sciences under award number UL1TR001427
David W. Kays, M.D., is lead author of the study. Co-investigators in the study include James L. Talbert, M.D.; Saleem Islam, M.D.; Shawn D. Larson, M.B.Ch.B.; Janice A. Taylor, M.D.; Joy Perkins, R.N., R.T.T.
About Johns Hopkins All Children's Hospital
Johns Hopkins All Children's Hospital in St. Petersburg is a leader in children's health care, combining a legacy of compassionate care focused solely on children since 1926 with the innovation and experience of one of the world's leading health care systems. The 259-bed teaching hospital, ranked as a U.S. News & World Report Best Children's Hospital, stands at the forefront of discovery, leading innovative research to cure and prevent childhood diseases while training the next generation of pediatric experts. With a network of Johns Hopkins All Children's Outpatient Care centers and collaborative care provided by All Children's Specialty Physicians at regional hospitals, Johns Hopkins All Children's brings care closer to home. Johns Hopkins All Children's Hospital consistently keeps the patient and family at the center of care while continuing to expand its mission in treatment, research, education and advocacy. For more information, visit HopkinsAllChildrens.org.