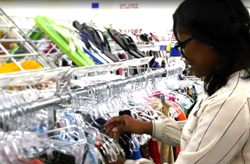 Baltimore, MD (PRWEB) April 29, 2016
Linay Reed, a Baltimore-area thrifting expert, blogger, and owner of Dainty Rebel Vintage, was interviewed shopping at Planet Aid's Thrift Center in Baltimore. In the segment she provides thrifting tips and reports on the range of stylish yet affordable brand name clothing available at the Center. Reed frequently shops at the store to purchase vintage bargains that she resells at her boutique.
Reed cited the huge selection and low prices at Planet Aid's new shopping location as one of her primary reasons for visiting, "I love the store, and I really love the prices at the store," said Reed. "I also like the layout of the store and the friendly staff."
Specializing in finding high-quality and fashionable clothes at great prices, Reed shares her best thrift moments on her blog. Not a stranger to contributing to the local community herself, Reed donates a percentage from each sale towards helping Baltimore youth.
Reed also shares some of her key thrifting advice for shoppers looking to find high- quality fashion items at low prices.
Since it opened, the Planet Aid Thrift Center has seen an overwhelming response from the local community. Each day, new and returning customers arrive to take advantage of the remarkable selection, happy to also support Planet Aid's broader mission to help those in need across the globe.
Proceeds from the store help fund Planet Aid's multiple charitable initiatives and sustainable development projects providing vital support to some of the poorest populations in Africa, Asia, and Latin America.
The Planet Aid Thrift Center is located at 5425 Baltimore National Pike, and is open seven days a week. Check the website for specific times.
About Planet Aid
Planet Aid is a U.S. 501 (c)(3) nonprofit and is registered with USAID as a private voluntary organization. It collects and recycles used clothing and shoes as part of its environmental mission. The net proceeds from its 21-state recycling operation help to support projects aimed at eliminating poverty. Since its inception in 1997, Planet Aid has provided more than $100 million to support projects on three continents. Planet Aid supports programs in education, teacher training, nutrition and agricultural and economic development.