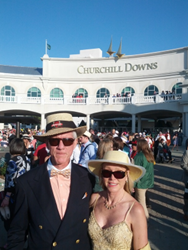 That was the year some of the biggest names in finance, from JP Morgan to Paul Warburg, met in secret at Jekyll island to discuss the formation of the Federal Reserve.
West Palm Beach (PRWEB) May 05, 2016
LongShortFlat.com, a service offering investment newsletters focused on the S&P 500, released an article today outlining intriguing links between the size of the prize purse at the Kentucky Derby and the history of the Federal Reserve.
Doug Churchill, owner of LongShortFlat.com, is an MBA, equities trader, and former IBM systems analyst with a love for numbers. With a background in financial analysis, he has spent the last 40 years parsing little known patterns in the financial markets. The genesis of this article was Mr. Churchill stumbling across a 1988 Kentucky Derby poster on the wall of a restroom at E.R.Bradley's Saloon in Palm Beach (a gentleman that owned four Derby winners in his own right) and instantly seeing the correlation of the data with the timing of the foundation of the Federal Reserve.
For example, LongShortFlat.com says, "In 1913 -- the year the Federal Reserve was established -- the Derby prize purse sat at a humble $5,850. Thanks to the creation of new 'federal reserve notes,' there was an economic boom, and the prize pool for the race at Churchill Downs shot through the roof. In just 9 years, from 1913 to 1922, the Derby's prize pool went up from $5,850 to $63,775.
"In other words, the Derby's prize pool rose in lockstep with the broader economy...and it fell in lockstep as well. Correlation or causation? That is for the reader to decide."
Read the full post at LongShortFlat.com