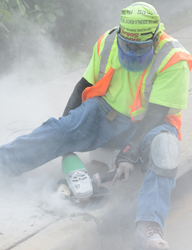 This project may seem small but it is important to our residents and important to us.
Sunny Isles Beach, Florida (PRWEB) April 29, 2016
Uneven sidewalks are a thing of the past in the City of Sunny Isles Beach. The Public Works Department identified numerous problem areas throughout the City and the sidewalk repairs resulted in a rebate from Preferred Government Insurance Trust.
Over time, due to weather, foot and other traffic, sidewalks settled at different rates and the seams between the concrete slabs become uneven. Many such spots were found in sections of sidewalks on the main and side streets throughout the City. The situation was dangerous for pedestrians of all ages.
After the sidewalks were inspected and problem areas marked, by the Public Works Department, contractors undertook the messy and labor intensive sidewalk grinding project. The purpose was to eliminate the raised concrete which caused a trip hazard between the slabs. As the project progressed, pedestrians began to notice the improvement and realize what the workers with the loud machines had been tasked to accomplish.
When the project was completed, a representative from Preferred Government Insurance Trust presented City Manager Christopher J. Russo with a rebate check for $5,000. This was made possible by the City's participation in the insurance company's Matching Training Incentive Program. Examples of eligible reimbursements include: personal protective equipment, safety related signs, ADA compliance measures, police accreditation program fees, driver training, law enforcement simulator training, ergonomic training, sidewalk repairs, continuing education classes, lifeguard training and most any safety related training or equipment.
Big capital projects get a lot of attention but there are other important, smaller projects in the works that get very little attention. This is one of those projects that has made a positive impact for many of our residents. "We don't forget about the many residents that walk our sidewalks regularly going to church, temple, school and the market," says City Manager Christopher Russo. "This project may seem small but it is important to our residents and important to us."
For more detailed information on projects in the City, visit the official City website at sibfl.ne t, watch SIBTV, or follow the City on Twitter & Instagram (@CityofSIB), or on Facebook (City of Sunny Isles Beach). For questions, please contact Cultural and Community Services at 305.792.1706.