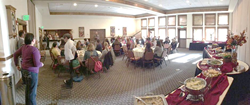 It's official: Pay It Backward is an annual Antlers at Vail spring event.
Vail, Colorado (PRWEB) May 02, 2016
When Antlers at Vail hotel decides to say thank you, things can get a little out of hand. Last year, an idea about rewarding Colorado nonprofits by selecting one to receive a free weekend quickly catapulted into double-digit invitations as the initial plan morphed into the creation of a full-on spring "Pay It Backward" event. Representatives of 33 Front Range nonprofit organizations accepted the Vail Valley Platinum-ranked hotel's offer of two free nights' lodging and a Saturday night reception with wine and appetizers prepared by Vail catering chef Barry Robinson last May. That first event was such a resounding success (Fireside Productions produced a video capturing some of the fun) that invitations have been sent out for this year's second Pay It Backward weekend, May 13-15, 2016 – with the list of Colorado nonprofit invitees expanded to 41.
"It's official: Pay It Backward is an annual Antlers at Vail spring event," says General Manager Rob LeVine, who came up with the twist on the "pay it forward" concept as a way to expand the Antlers' support of Colorado nonprofits beyond the Vail Valley. "Last year's weekend was a tremendous success in so many ways. The attendees really appreciated the recognition of all they do, new relationships were forged and everyone had a fantastic time. How could we not do it again?"
Once again, Antlers at Vail extends the invitations but leaves it up to individual organizations to decide who will attend on their behalf. Last year's guests ranged from hard-working staff members to generous volunteers to, in the case of the Women's Foundation of Colorado, a Facebook supporter selected via a random drawing. Many of the guests brought family members or friends, including children of all ages.
The Front Range nonprofit organizations invited to the 2016 Pay It Backward weekend at Antlers at Vail are, in alphabetical order: The Alliance for Sustainable Colorado; American Heart Association; American Red Cross Mile High Chapter; Audubon Rockies; Bicycle Colorado; Big Brothers Big Sisters of Colorado; Boys & Girls Clubs of Metro Denver; Canine Companions for Independence; Advocates for Children – CASA; Catholic Charities Diocese of Pueblo; The Center For Mental Health; Children's Hospital Colorado Foundation; Colorado Coalition Against Domestic Violence; Colorado Fourteeners Initiative; Colorado Public Radio; Colorado UpLift; Colorado Water Trust; Crossroads Safehouse; Denver Children's Advocacy Center; Denver Dumb Friends League; Denver Indian Family Resource Center; Easter Seals; Firefly Autism; Food Bank of the Rockies; Habitat for Humanity of Colorado; The Home Front Cares; Hope House of Colorado; Hospice of Northern Colorado; iDE - International Development Enterprises; Joshua Station; MaxFund; Metro Denver Partners; Mi Casa Resource Center; Mile High United Way; Rocky Mountain Rescue Group; Ronald McDonald House Charities; The Salvation Army of Colorado Springs; Sense of Security; Wounded Warrior Project; The Women's Foundation of Colorado; and 9Health Fair.
About the Antlers at Vail:
The Antlers at Vail hotel offers a relaxed Vail lodging experience in a fabulous mountain setting and was recently awarded Vail's highest-level Platinum lodging rating, as well as earning the TripAdvisor Certificate of Excellence and GreenLeader status. With condominiums ranging from studio suites up to four-bedroom penthouses, every unit at the Antlers enjoys a fully equipped kitchen, fireplace, private balcony, daily maid service, and complimentary Wi-Fi and parking. The Antlers has an A+ location on the banks of Gore Creek, just steps from restaurants, galleries, shops, free Vail town shuttle and the Lionshead Gondola. For more information and reservations visit http://www.antlersvail.com.
Contact: Anne Parsons, WordenGroup Public Relations, anne(at)wordenpr(dot)com, 303.777.7667