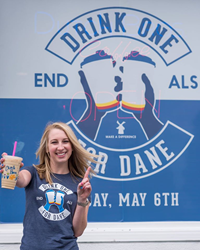 Let's make the largest impact yet for Drink One for Dane. Together, we can make a difference to end ALS.
GRANTS PASS, Ore. (PRWEB) May 01, 2016
Dutch Bros' annual Drink One for Dane Day is Friday, May 6. On this day, all Dutch Bros locations will donate proceeds from the day's sales to the Muscular Dystrophy Association, MDA.
Over the past nine years, Dutch Bros has joined forces with their communities to donate over $1.7 million to MDA to benefit Amyotrophic Lateral Sclerosis, ALS, research and family services, donating $506,000 just last year. May 6 will celebrate 10 years of partnering with MDA in hopes of finding a cause and a cure for ALS, a disease that impacts so many lives.
"It is really unimaginable that we have been doing Drink One for Dane for 10 years now," said Travis Boersma, Dutch Bros Co-founder. "The progress that has been made in ALS research is inspiring, but there is still a long way to go."
ALS is a disease that affects the parts of the nervous system that control muscle movement. There is currently no cure for ALS, and the disease is fatal - most people who are diagnosed will typically lose their battle within three to five years.
"We want to thank Dutch Bros and all of the baristas for everything they have done for MDA and to fight ALS," said Amanda Haidet-Phillips, MDA Scientific Program Officer. "It is important to know that there is not a cure yet and there is still a lot of progress that needs to be made. So, let's move forward as we celebrate Drink One for Dane and do everything we can to end ALS."
Drink One for Dane day will forever hold a special place in the Dutch Bros world – as we lost one of the company's co-founders, Dane Boersma, in 2009 because of this incurable disease. Dutch Bros will continue to honor the legacy of a man who was known to inspire and love everyone around him, and to fight until there is a cure.
"I hope everyone will join us and stand together against ALS," said Travis. "In the words of Dane, 'Let's make this day bitchin'!"
ALS is a disease that touches the lives of many in Dutch Bros and their communities. All 262 locations in seven states will donate proceeds from May 6 to support family, friends, co-workers and neighbors who are or have been affected by this disease. Together, we can make a difference to end ALS.
###
About Dutch Bros Coffee
Dutch Bros Coffee is the country's largest privately held, drive-thru coffee company, with over 260 locations and over 5,000 employees in seven states.
Dutch Bros serves specialty coffee, smoothies, freezes, teas and a private-label, Dutch Bros Blue Rebel™ energy drink.
The rich, proprietary coffee blend is handcrafted from start to finish. Every ingredient is measured, every process timed, and every cup perfected.
With a mission of, "Making a Difference, One Cup at a Time," Dutch Bros donates over $2 million annually to nonprofit organizations and local causes selected by local owner-operators.
Dutch Bros. Coffee is headquartered in Grants Pass, Ore., where it was founded in 1992 by Dane and Travis Boersma, brothers of Dutch descent.
To learn more about Dutch Bros, visit http://www.dutchbros.com, like Dutch Bros Coffee on Facebook or follow @DutchBros on Twitter.
Contact: Jen Wheatley, pr(at)dutchbros(dot)com, 541.226.7787