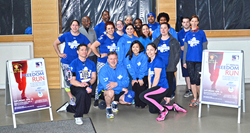 Suitland, MD (PRWEB) April 29, 2016
Andrews Federal Credit Union sponsored the 5th Annual German Credit Union Freedom Ten Mile Run at the Wiesbaden Army Garrison. More than 230 registered runners participated in one of three events: a 10 mile run, a 5K run/walk or a ½ mile kids' run.
"It is an honor to sponsor the 5th Annual Freedom Run," said Jim Hayes, Andrews Federal President & CEO. "We take pride in supporting our troops and their families overseas."
In addition to sponsoring the event, Andrews Federal staff joined volunteers from the MWR and the Air Force 485th Intelligence Squadron in lending their support. All race participants received a Freedom Run t-shirt, racer bibs and tote backpacks courtesy of Andrews Federal Credit Union. Additionally, kids t-shirts were provided by the Wiesbaden Community Spouses Club.
About Andrews Federal Credit Union
Andrews Federal Credit Union was founded in 1948 to serve the needs of military and civilian personnel by providing a vast array of financial products and services. With over $1 billion in assets, Andrews Federal has grown to serve more than 116,000 members in the District of Columbia, Joint Base Andrews (MD), Springfield, Virginia (VA), Joint Base McGuire-Dix-Lakehurst (NJ), and military installations in central Germany, Belgium, and the Netherlands. In addition, the Credit Union serves as a financial partner with many select employee groups in Maryland, the District of Columbia, Virginia and New Jersey.
To learn more about Andrews Federal Credit Union and its community involvement, or to become a member, call 800.487.5500 or visit http://www.andrewsfcu.org.