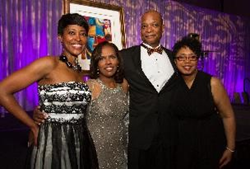 Minnesota, MN (PRWEB) April 29, 2016
The Minneapolis UNCF local office will host the fourth Twin Cities Masked Ball on Saturday, May 14, at the Radisson Blu. The sold-out signature event, emceed by actor T. Mychael Rambo, will bring together more than 400 business, civic and education leaders, including Minneapolis Mayor Betsy Hodges and Dr. Michael L. Lomax, UNCF's president and CEO. Proceeds from the evening will fund the UNCF Twin Cities Hope Scholarship for deserving Minneapolis students, UNCF's member institutions nationwide and the UNCF Campaign for Emergency Student Aid (CESA) to help seniors pay final bills in order to graduate from UNCF member schools.
"I am thrilled to attend the 4th UNCF Twin Cities Masked Ball to support the critical work UNCF does," Hodges said. "UNCF has a rich 72-year history and has raised more than $4.5 billion to support college students of color. Their work is crucial to ensure deserving students have access to high-quality higher education."
"We value the commitment of Mayor Hodges as we continue the plight in providing quality education for minority students," Lomax said. "Together in the Twin Cities, supporters and stakeholders join to invest in Better Futures® and forge partnerships that pave the way for the next generation of leaders . . . our dividends."
The signature fundraising event will be chaired by Laysha Ward, executive vice president and chief corporate social responsibility officer of Target Corp., and co-chaired by Jacob Gayle, president of Medtronic Foundation and vice president of Philanthropy of Medtronic PLC. Masked Award recipients are Dr. Marcia Halvorsen and Eric and Dr. Ella Mahmoud for their dedication and support of UNCF's work. Halvorsen is emerita professor of economics at University of Redlands and former faculty member of UNCF member-institution Spelman College; Eric Mahmoud is president and CEO of Harvest Network of Schools; and Dr. Ella Mahmoud is the founder of Seed, Inc., and executive director of Seed Academy.
"UNCF scholarship students have a strong record of becoming leaders in business and the community," said Ward. "Target proudly supports the work UNCF does every day to ensure underrepresented students get into and through college."
This year's presenting sponsor is Target, co-presenting sponsors plus is The Medtronic Foundation and co-presenting sponsors are 3M and Best Buy. Major sponsors are U.S. Bank, General Mills and Wells Fargo and supporting sponsors are Cargill, Comcast, Greater Twin Cities United Way, Mortenson and Thrivent.
The black-tie affair begins at 5:30 p.m. and includes a VIP reception, student testimonial, live auction and elegant dining followed by dancing. DJ Sxooba will provide the music.
To learn more about this event, please visit: uncf.org/twincitiesmaskedball.
Follow this event @uncf #UNCFTC #UNCF
About UNCF
UNCF (United Negro College Fund) is the nation's largest and most effective minority education organization. To serve youth, the community and the nation, UNCF supports students' education and development through scholarships and other programs, strengthens its 37 member colleges and universities, and advocates for the importance of minority education and college readiness. UNCF institutions and other historically black colleges and universities are highly effective, awarding nearly 20 percent of African American baccalaureate degrees. UNCF awards more than $100 million in scholarships annually and administers more than 400 programs, including scholarship, internship and fellowship, mentoring, summer enrichment, and curriculum and faculty development programs. Its logo features the UNCF torch of leadership in education and its widely recognized motto, "A mind is a terrible thing to waste, but a wonderful thing to invest in."® Today, UNCF supports more than 60,000 students at more than 1,100 colleges and universities. Learn more at UNCF.org or for continuous news and updates, follow UNCF on Twitter @UNCF.