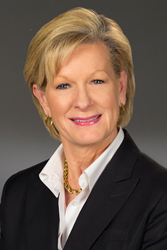 I'm extremely proud of what Anne and Steven have done to protect the fund from the myriad challenges that a global, more-than $186 billion, investment portfolio faces today and could likely face over the next 30 years, CalSTRS CIO Chris Ailman
WEST SACRAMENTO, Calif. (PRWEB) April 29, 2016
The directors of the California State Teachers' Retirement System's Corporate Governance and Innovation & Risk units received awards from Institutional Investor Magazine last night at a Los Angeles awards ceremony.
The accolades, part of the third-annual Investor Intelligence Awards, were in recognition of expertise and dedication to CalSTRS and the investment industry at large. Corporate Governance Director Anne Sheehan received her award in the areas of Environmental, Social, Governance/Socially Responsible Investing. Innovation & Risk Director Steven Tong received the Innovator Award for his role in launching the Innovation & Risk unit in 2009.
Ms. Sheehan leads a staff of 11 whose work supports CalSTRS' central role as a fiduciary and administrator for the state's retirement trust fund serving nearly 900,000 educators. CalSTRS responsibly votes the fund's proxies across its public equity portfolio and conducts active engagement and education campaigns as a shareholder to promote change when and where corporate governance issues arise.
"ESG issues are increasingly important to investors both as value drivers and risk mitigators," Ms. Sheehan said. "We regularly engage with companies on ESG issues and are not shy about escalating our efforts by filing shareholder proposals of companies that are not responsive."
Since arriving at CalSTRS in 2008, Ms. Sheehan has placed $4 billion to work with activist managers to seek governance changes when engagement strategies needed a boost. Ms. Sheehan also oversees CalSTRS sustainable managers consisting of external equity managers who actively integrate sustainability into their investment analysis and stock selection. Under her leadership, CalSTRS stepped up its shareholder proposals on issues of sustainability, majority voting and board diversity.
Mr. Tong has a 32-year career with CalSTRS. His role in the organization began with accounting responsibilities and grew over the years to encompass investment operations, global equity, and now oversight of the Innovation & Risk unit since its 2009 launch.
"Working in Innovation & Risk is fascinating. We focus on conducting research and testing various strategies that don't really fit into a typical asset class. We specifically target sources of return that will significantly improve the diversification of the total fund," Mr. Tong said. "It's a little ironic that I spent years developing the plan's equity portfolio, to now find myself seeking ways to reduce our equity risk."
The efforts of Mr. Tong and his 10-member staff culminated with the Investment Committee's November 2015 adoption of a new class to the CalSTRS investment portfolio: Risk Mitigation Strategies. This approach focuses on a diverse basket of investment strategies designed to moderate the impact of equity market volatility.
"I'm extremely proud of what Anne and Steven have done to protect the fund from the myriad challenges that a global, more-than $186 billion, investment portfolio faces today and could likely face over the next 30 years," said CalSTRS Chief Investment Officer Christopher J. Ailman. "Their leadership, with their small staffs, is a key component in keeping our fund on a steady course toward generating the 7.5 percent return we need to safeguard the financial security of California's educators and their families."
About CalSTRS
The California State Teachers' Retirement System, with a portfolio valued at $186.8 billion as of March 31, 2016, is the largest educator-only pension fund in the world. CalSTRS administers a hybrid retirement system, consisting of traditional defined benefit, cash balance and voluntary defined contribution plans. CalSTRS also provides disability and survivor benefits. CalSTRS serves California's 896,000 public school educators and their families from the state's 1,700 school districts, county offices of education and community college districts. Follow us on Twitter @CalSTRS