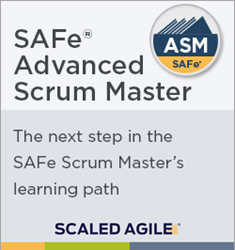 For Scrum Masters, holding a SAFe ASM certification will tell employers they are committed to excellence in practicing in a SAFe environment.
Boulder, Colorado (PRWEB) April 29, 2016
Scaled Agile, Inc. (SAI), provider of the Scaled Agile Framework® (SAFe®), today announced the launch of a new certification: SAFe Advanced Scrum Master (ASM). The two-day course was created to meet the growing demand from Scrum professionals looking to develop expertise in SAFe and meet the demands of enterprises relying on SAFe to build better software and systems.
SAFe ASM prepares Scrum Masters to take a leadership role in facilitating Agile team, program, and enterprise success in a SAFe implementation. They will learn facilitation of cross-team interactions in support of program execution and relentless improvement. The course will enhance their understanding of the Scrum paradigm with an introduction to scalable engineering and DevOps practices, and the application of Kanban to facilitate the flow of value. It will also provide them with a consistent approach to facilitating interactions with architects, product management, and other critical stakeholders in the larger program and enterprise contexts.
"Being an effective Scrum Master in a modern enterprise requires a new set of skills that supports large, multi-team development initiatives," said Alex Yakyma, SAFe ASM Product Owner and SAFe Fellow. "It requires close attention to fostering engineering craftsmanship, enabling continuous flow, and facilitating successful program execution. SAFe ASM was designed to provide that perspective as an integral part of the Scrum Master's learning path."
Carol McEwan, Scaled Agile's VP of Community, noted, "We are pleased to see the new SAFe ASM certification generate so much enthusiasm from our community. The SAFe ASM certification was developed as a direct result of feedback from professionals in the field. For Scrum Masters, holding a SAFe ASM certification will tell employers they are committed to excellence in practicing in a SAFe environment."
With this new addition, Scaled Agile now offers a portfolio of six professional credentials designed to meet the needs of Lean-Agile professionals from the very beginning of their learning path through their veteran years as they practice, consult, and train others in SAFe. Public classes are being held in multiple cities, including Boulder, Philadelphia, Santa Clara, Washington, DC, and Atlanta. Information about the course can be found at scaledagile.com/safe-asm. Registration details and public course calendar can be found at scaledagile.com/calendar.
Attendees of the SAFe ASM course are strongly recommended to have one of the following certificates: Certified ScrumMaster® (CSM), or Professional Scrum Master (PSM). Alternatively, SAFe Practitioners (SPs) who have attended the SAFe Scrum Master Orientation may also attend.
About Scaled Agile, Inc. (SAI):
Based in Boulder, Colorado, Scaled Agile's mission is to help large enterprises achieve better outcomes, increase employee engagement, and improve business economics through adoption of Lean-Agile principles and practices based on the Scaled Agile Framework® (SAFe®). SAI supports tens of thousands of practitioners of the Framework through training, certification, consulting services, and a global partner network that reaches over 35 countries and 350 cities. As a contributing member of the Pledge 1% corporate philanthropy movement, SAI also seeks to inspire, facilitate, and encourage other companies to make a positive impact in their community.
Learn about Scaled Agile, and the Scaled Agile Framework, at scaledagile.com and scaledagileframework.com.
To view SAFe case studies, visit scaledagileframework.com/case-studies/
Media Contact:
Regina Cleveland, Director of Communications
+1.720.477.1756
Regina(dot)Cleveland(at)scaledagile(dot)com