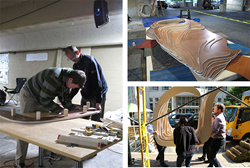 From collaborating on the design to building the structure on Arch Street for the AIA Convention, each team member played an important role toward the success of this adventure. - Daryl Kern, AIA, Project Architect, Array Architects
Philadelphia, PA (PRWEB) June 27, 2016
Array Architects' parklet design consumed the free time of several firm members for four weeks of designing, sawing, staining, sanding and building in a parking garage in Conshohocken, as well as assembling on site in Philadelphia. On May 20th Array's parklet was the highlight of the 1200 block of Arch Street, encompassing an entire city parking space to offer public seating for pedestrians.
As Install Day approached, the team refined their 7' x 14' design, confirmed material availability, arranged transportation and solicited volunteers from the office for after-hours labor. Next began the difficult task of physically constructing the parklet with their own hands, before breaking it down for final assembly on site. "Our parklet incorporates the three elements of the Blue Zone theory that most affect personal well-being and mental health," said Daryl Kern, a senior associate with Array and the parklet project manager. This year's theme of 'Imagine' is representated by the elements of Meditation, Socialization and Play."
"What the team managed to create from what I saw as a pile of plywood is truly breathtaking!" said Carl Davis, Array CEO. The team estimates they spent over 800 hours during April and May conceptualizing and completing the parklet. Because of the overwhelming interest in Array's parklet, the team's design was requeted for display in the main floor exhibit space at the Center for Architecture at 1218 Arch Street. "The perfect end to our parklet display day was being asked by the Center for Architecture to rebuild it in their exhibit space!" noted Kern.
The parklet, constructed from custom-cut wood and composite sheets, recycled cardboard and recycled PVC, invites visitors to: look inward (the form creates a meditative space which assists with blocking outside sounds and distractions) and socialize (a unique organic shape provides different seating and leaning elements to accommodate visitors' various moods and needs). The form itself not only divides the two distinct areas of use, it creates playful elements both by inspiring imagination and evoking a sense of folly, as well as being climbable and fun, something not typically found on a city street.
Array's team appreciates the assistance from Mary Jo O'Neill from Brandywine Realty Trust. Array is a tenant in Brandywine's 1 West Elm building in Conshohocken, and Brandywine allowed the team to take over a sizable portion of the adjacent parking garage's bottom deck for several weeks of preparation and building.
Array earned the Judge's Choice Award for the parklet, edging out impressive competition from formidable national firms. The parklet will be on display for Design Philadelphia in October 2016, and on permanent display in a public location to be determined later this fall. Array's videographer, Katie Breiter, followed the project along the way and compiled a video with highlights.
According to Parklet team member, Elaine Wong, an architectural designer with Array, "It is great how the design utilizes a common material to create an interactive structure that redefines what a typical bench can be. The geometry is bold and makes a statement that is visible from far away."
--
Array is recognized as a leader in healthcare facility planning and design, offering a full complement of knowledge-based services including planning, architecture, interior design and asset advisory from our eight office locations. Our design process uses Lean as a foundation for a unique Process-Led approach that better meets the needs of today's healthcare organizations. Array's devotion to a healthcare-exclusive practice springs from our belief in the power of design to improve patient outcomes, maximize operational efficiencies, increase staff satisfaction and provide remarkable results for our clients.