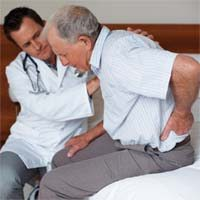 Raleigh, NC (PRWEB) April 30, 2016
Doctors at the University of Edinburgh evaluated 37 pleural mesothelioma patients for their newly-released study on mesothelioma pain. Surviving Mesothelioma has just posted an article on their findings. Click here to read it now.
The Scottish team used several different measurement tools to evaluate pain in people with malignant pleural mesothelioma, including the Brief Pain Inventory (BPI) and the Leeds Assessment of Neuropathic Symptoms and Signs (LANSS). They found that these tools do have their limitations.
"Twenty patients (54%) had a clinical diagnosis of neuropathic pain, and of these, only six patients (40%) screened positively for neuropathic pain using the LANSS," according to Nicholas MacLeod, FRCR, of the Edinburgh Cancer Research Centre.
Mesothelioma patients evaluated for the study, which was published in Pain Medicine, put their worst pain at an 8 on a scale of 1 to 10 and their average pain at a 4.
"The better we understand the nature of mesothelioma-related pain, the more likely it is that clinicians will be to help manage it effectively," says Surviving Mesothelioma's Managing Editor, Alex Strauss. "This study is a valuable step in that direction."
To read the details of the new mesothelioma pain study, including an explanation of neuropathic pain, see Evaluation and Treatment of Mesothelioma Pain, now available on the Surviving Mesothelioma website.
MacLeod, N, "Pain in Malignant Pleural Mesothelioma: A Prospective Characterization Study", April 26, 2016, Pain Medicine, Epub ahead of print, https://www.ncbi.nlm.nih.gov/pubmed/27117437
For nearly ten years, Surviving Mesothelioma has brought readers the most important and ground-breaking news on the causes, diagnosis and treatment of mesothelioma. All Surviving Mesothelioma news is gathered and reported directly from the peer-reviewed medical literature. Written for patients and their loved ones, Surviving Mesothelioma news helps families make more informed decisions.