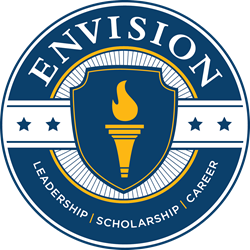 These teachers went above and beyond their job requirements to make an impact on their students' lives
Vienna, VA (PRWEB) May 03, 2016
Envision Experience announced today the five recipients of its Envisionary Educator Awards, which recognize teachers for the incredible impact they've made on their students' lives. The Envisionary Educator awards are given annually on National Teacher Appreciation Day.
This year's Envisionary Educators of the Year recipients are:

Ann Savkova, English, Northampton Area High School (PA)
Ben Suro, science, Bergen County Technical High School (NJ)
Eileen Slusser, language arts, Coshocton High School (OH)
Gerald Liang, science and engineering, Newark Memorial High School (CA)
Traci Leonard, English/language arts, South Brunswick Middle School (NC)
Each winner will receive a $1,000 Adopt a Classroom grant to purchase supplies they need to further their in-class room activities.
The Envisionary Educator Awards are based on a blind nomination process by Envision alumni, who filled out essays on why their teacher inspired them. Chief Academic Officer Andrew Potter hand-picked the five teachers from the scores of nominations submitted by Envision alumni.
Envision considers an exemplary teacher as someone who motivates their students to excel. This can occur through a variety of methods, including inspiring students to pursue their passion, preparing students for future success, motivating youth to develop their talents, sparking curiosity, and challenging students to think outside the box.
"These teachers went above and beyond their job requirements to make an impact on their students' lives," said Andrew Potter. "Our country owes a debt to educators like these and thousands of other unrecognized teachers who take proactive roles in their students' lives. They care a great deal about these children, and are helping to forge our society's future."
Envision is continuing to celebrate Teacher Appreciation Day and Appreciation Week on its blog. Stories include excerpts from the Envisionary Educator Award winners' nominations, an interview with the Envisionary Educator Award winners (Wednesday), stories of other inspiring teachers, and more.
About Envision Experience
The Envision family of programs (http://www.envisionexperience.com) enable students of from elementary school through college to explore their interests and experience learning beyond the classroom. Since 1985, Envision programs have served more than 500,000 students from more than 145 countries, with programs designed to help students develop the leadership, scholarship and career skills needed to succeed in today's competitive college and career landscape.