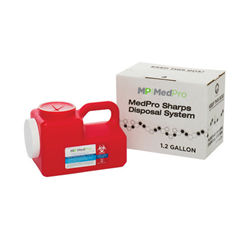 Naperville, Illinois (PRWEB) May 02, 2016
MedPro Waste Disposal, LLC (MedPro) is proud to announce that it has now launched our modernized mail back service. MedPro now offers its mail back service for an all-inclusive rate. MedPro Disposal President, Dan Hansen, says, "We're really excited to announce this offer; we are now able to provide service to all of the clients in the country who are looking for an alternative to their current service."
Who We Are
Disposal of medical waste is not the first line of business any practice wishes to handle. Headquartered in Naperville, Illinois, MedPro Waste Disposal was brought to life to offer an alternative, competitively priced resource. MedPro can handle your waste disposal for you. Our company is driven by one goal: Providing our customers with ethical, environmentally safe disposal of their medical waste. At the end of the day, the only focus our customers should devote their time towards is their patients.
About Our Mail Back Service
MedPro Waste Disposal's mail-back program ensures clients of all shapes and sizes have convenient and safe access to disposing of their medical waste. Whether its sharps, pharmaceuticals, or other medical waste, MedPro has a competitively priced solution. Business owners and home users alike now have the same worry free solution. Simply select the certified disposal container of your choice and place your order. The package will arrive with a prepaid return shipping slip. When the container is full, place it in the box and send it back with the confidence and assurance that your medical waste is being disposed of in a safe and environmentally friendly manner.
For more information:
Website: https://mailback.medprodisposal.com/
MedPro Disposal: (866) 924-9339