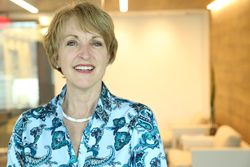 With Mary Ann joining our team, we are able to extend our continuum of services through implementation to help our clients realize their full transformation potential. . - Jonathan Bykowski, AIA, Lean Six Sigma Black Belt
Philadelphia, PA (PRWEB) June 03, 2016
Mary Ann Derr's passion to improve healthcare with innovative and strategic problem-solving capabilities is recognized amongst leaders in the industry. Driven by data and quality improvement, she has advised hospitals and organizations around the globe using lean principles, technology integration and quality patient outcomes. Mary Ann's expertise and dedication for healthcare consulting makes her a valuable partner in Transformation Advisory Services.
Mary Ann brings a career's worth of healthcare expertise to her role with Array Advisors - from her years as an RN, to her Desert Storm tour as a US Navy Lieutenant, to her time spent managing healthcare construction endeavors. Array is pleased to have Mary Ann as part of our consulting team, and looks forward to sharing her passion around lean principles, technology integration and quality patient outcomes with our clients.
About Array Advisors
As trusted partners in Strategy Development and Organizational Transformation, Array Advisors helps solve strategic business problems, and develops methods to improve efficiency and utilization. The team approaches each problem from a unique angle, providing a plan tailored to help each client overcome the toughest challenges.
About Array Architects
Array Architects is recognized as a leader in healthcare facility planning and design, offering a full complement of knowledge-based services including planning, architecture, interior design and asset advisory from eight office locations. The firm's design process uses Lean as a foundation for a unique Process-Led approach that better meets the needs of today's healthcare organizations. Array's devotion to a healthcare-exclusive practice springs from the long-held belief in the power of design to improve patient outcomes, maximize operational efficiencies, increase staff satisfaction and provide remarkable results for healthcare clients.