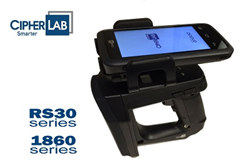 CipherLab 1862 UHF RFID reader enables versatile data collection with Bluetooth® pairing while the 1862 also includes Bluetooth® V4.0 dual mode which is backward compatible with current and future smart devices.
Plano, TX (PRWEB) April 30, 2016
CipherLab, a global leader in the design, manufacture, and marketing of Automatic Identification and Data Capture/Collection products and systems, will exhibit its 1862 Bluetooth UHF RFID handheld reader and RS30 Android touch computer with NFC in Booth #350 at RFID Journal LIVE! from May 3-5, 2016 at the Orange County Convention Center, in Orlando, Fl.
CipherLab 1862 UHF RFID handheld reader has a long reading range of 16.5 ft. which makes data collection easier from the ground. Users can also easily reach and collect data from hard to reach locations. On top of that, the data collection process is made simple with the ability to read manifold and various EPC Gen 2 (ISO 18000-6C) tags at one shot. CipherLab's 1860 series' high performance RFID technology makes applications such as asset management and item level tagging quick and easy.
"The deployment of RFID technologies has been picking up in environments such as warehouse operation, logistics, manufacturing, and retailing industries. UHF RFID systems are getting more attention due to the benefits it could generate and the improvement that has been made. We aim to fulfil as many needs and expand our products to better serve our customers." commented by Luis Wu, Vice President and General Manager of CipherLab USA.
CipherLab's RS30 series touch mobile computer is a rugged smartphone that allows users to perform at a high level with minimal training. Its Android 4.4 OS paired with a 4.7 inch touch screen ensures that the user interface is as familiar as a personal smartphone. The touch screen is composed of a Corning Gorilla Glass 3 panel that can take vigorous tapping as well as latex glove touches. Seamless communication and collaboration among crew is achieved through HSPA+ and finely tuned 802.11 b/g/n. The RS30 also includes versatile industrial barcode reader options and Near Field Communication (NFC) to ensure top productivity. These features are ultimately protected with an industrial design which is proven to sustain accidental drops and water splashes.
For more details and specifications regarding CipherLab products, please send an email to NASales@cipherlab.com or contact our office at 888-300-9779.
About CipherLab
CipherLab is a global leader in the design, manufacture, and marketing of Automatic Identification and Data Capture/Collection products and systems. The company's mobile computers and scanners are integrated into the networks of some of the world's best known logistics, retail, distribution, government installations and healthcare companies, helping them run more efficiently and effectively onsite and on the road. CipherLab USA is headquartered in Plano, TX. For more information, please visit http://www.cipherlab.com or like us at http://www.facebook.com/CipherlabUsa.