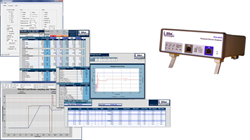 "The next generation PoE Powered Device Analyzer is a powerful, unique, feature scalable instrument that allows users to quickly test, identify interoperability issues and troubleshoot any IEEE 802.3at PoE PD." David Lucia, Sifos Technologies
Boston, MA (PRWEB) May 03, 2016
Sifos Technologies, Inc. (http://www.sifos.com) The PDA-602A Powered Device Analyzer offers one-button, fully automated test sequences, and limit checking for critical Powered Device (PD's) PoE characteristics. With measurements performed at the Powered Device network interface, many parameters critical to IEEE 802.3at interoperation can be accurately assessed relative to specification requirements, thus fully avoiding the need for and limitations associated with interoperability testing using IEEE 802.3at Power Sourcing Equipment (PSE's).
The PDA-602A Powered Device Analyzer offers the following comprehensive IEEE 802.3at PD Analysis and Verification features:

Automated IEEE 802.3at Powered Device Conformance Testing
Comprehensive Analysis of Critical PD Performance Parameters
Flexible 802.3at LLDP Emulation and Analysis
Powerful Metering: Voltage, Current, Power Sampling at the PD Interface
Flexible Emulation of PSE Behaviors and Configurations
Intuitive Graphical User Interface for Rapid Analysis and Testing
Powerful Script Automation and Binary API Library for Microsoft Windows
2-Pair Power Sourcing Well Beyond 30W
Informative Pop-Up Spreadsheet Reports and Statistics
Plug'n Play USB Interface to Windows PC's
Ethernet Switched Thru Port for External PD Configuration and Control
The PDA-602A is a scalable instrument for testing IEEE 802.3at PD's. This allows users to choose the best configuration at the lowest possible cost to suit their PD testing requirements. The base configuration of the PDA-602A allows for emulation of Type-1 PSE's and measurements including discrete meters and sampled waveform captures of PD interface parameters. This entry level configuration is ideal for rapid inspection and automated production testing of Type-1 PD's. License options include 802.3at Type-2 PD testing, automated Conformance Test and Load Monitoring, and 802.3at LLDP Protocol Emulation & Testing.
About: Sifos Technologies is the market leader in PoE (PSE and PDs) and provides Ethernet PHY (physical layer) automated test & measurement solutions for network equipment and electronic contract semiconductor, silicon providers, test labs, telecommunication service providers, system integrators, field service and IT departments.
The company is located just outside Boston, Massachusetts (USA) and may be contacted at +1-978-640-4900 on the web at http://www.sifos.com. Follow Sifos Technologies at Twitter, Facebook, and LinkedIn.