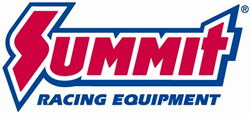 Tallamdge, OH (PRWEB) May 02, 2016
Summit Racing now carries Aeromotive Stealth Fuel Tank Systems for Chrysler A-body and E-body cars. Inside each reproduction steel tank sits Aeromotive's high-output, 340 Stealth electric fuel pump that's rated at 340 liters per hour (lph) free flow-- enough to feed an EFI engine making up to 850 horsepower or a carbureted engine making up to 1,000 horsepower.
The Stealth Fuel Tanks also feature an innovative baffling/tray system to control fuel slosh and keep the fuel pump submerged, even at low fuel levels and in extreme driving conditions. That means the tanks are properly set up for use with EFI systems. The silver powdercoated tanks come with a fuel level sending unit, pre-pump filter sock, internal return line tubing, and three -6 AN O-ringed ports (feed line, return line, and vent).
Applications

1970-74 Barracuda and Challenger
1970-76 Dart/Duster and Valiant/Demon
Summit Racing also offers Aeromotive Stealth Fuel Tank Systems for the following vehicles:

1967-69 Camaro and Firebird
1968-72 GM A-body
1962-68 Chevy II/Nova
1955-57 Chevy (16 gallon)
1970-72 Monte Carlo
1932 Ford
1964.5-68 Mustang
Summit Racing Equipment
http://www.SummitRacing.com
1-800-230-3030