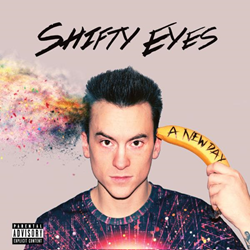 New York, NY (PRWEB) April 30, 2016
Today Coast 2 Coast Mixtapes announce the release of the "SA New Day" by Shifty Eyes. The Mixtape is currently available for streaming and download at http://coast2coastmixtapes.com/mixtape/shifty-eyes-a-new-day
A New Day signifies the transition and growth of Shifty Eyes from a freestyle rapper into a confident musician with original sound. From trap/drill sound to a deep lyrical emotional vibe, this tape reflects Shifty's voice and past through the body of hip hop today.
Huge thanks to CGutta & GuttaMuzik/GrandHustle for the energy and passion they had in my presence and for some of the hottest beats on this tape!
Production Credits: CGutta, Paul Salvatori, Tone Masons, Hit Makers, SVR Beats, Anno Domini, Paul Cabbin, 28Grams.
Engineering Credits: Andy Armstrong, Scott Komer, Matt Kootknee(9D1), Marvyn Thibodeaux(Smiley), Mills (Gutta Muzik)
Today, from touring with artist across the United States as well as working with producers and teams associated with major labels such as Grand Hustle Ent., Epic Records, & Universal Music Group, Shifty Eyes is well on his way to becoming recognized as the artist he was born to be! With a vast versatile arsenal of exclusive projects, this new breed of artist is ready to spread his passion upon the masses and tackle the ever changing music industry of the 21st century. Shifty Eyes is focused on telling the world his story, with his first Mixtape A New Day slated for release 04/29/2016 this will be just the first taste of the artists strong sound.
Now a father of 3, Shifty Eyes is most thankful for his family and understands the value in supporting your loved ones. With all these accomplishments under his belt, Shifty Eyes continues to strive for his dreams with the support of his family and close team, giving back to their community with their company Strong Sound. This is a big year for Shifty Eyes, he is currently in the studio working on a new LP, so stay tuned.
The mixtape features 23 tracks, including those below:
01. Shifty Eyes - Till Death (Yeah Yeah Yeahs Remix)
02. Shifty Eyes - Bass Remix
03. Shifty Eyes - Hustlenomics
04. Shifty Eyes - City2ytiC
05. Shifty Eyes - Froze
06. Shifty Eyes - Kings
07. Shifty Eyes - Coastin & Smokin
08. Shifty Eyes - PAPERS FREESTYLE
09. Shifty Eyes - R.Y.D.A ft. Kevin Gates
10. Shifty Eyes - Blowin Up ft. 2Pistols
11. Shifty Eyes - White Nino Brown
12. Shifty Eyes - Motive
13. Shifty Eyes - No Pain
14. Shifty Eyes - For the People
15. Shifty Eyes - PSYCHOTIC FREESTYLE
16. Shifty Eyes - Better Days
17. Shifty Eyes - LOSING TIME FREESTYLE
18. Shifty Eyes - Nowhere ft. Mitchelle'L
19. Shifty Eyes - No Games
20. Shifty Eyes - Keep Your Head
21. Shifty Eyes - Dreamwalkers
22. Shifty Eyes - Priceless
23. Shifty Eyes - Today
Shifty Eyes is currently seeking press opportunities, interviews, features, and more. He can be reached at the following locations:
http://www.strongsoundarmory.com
To download or listen to the new project, Shifty Eyes - A New Day, please visit the Coast 2 Coast Mixtapes site at http://coast2coastmixtapes.com/mixtape/shifty-eyes-a-new-day
About Coast 2 Coast Mixtapes: Coast 2 Coast Mixtapes are the most widely distributed mixtapes in the world, with over 100 million downloads/plays generated by over 300 volumes officially hosted by major artists. Coast 2 Coast has a solid reach in the new music industry with a digital magazine, DJ coalition, industry tips blog, yearly convention, and more. Coast 2 Coast Mixtapes represents a unique opportunity for artists of all urban genres, from major to indie. For more information, visit http://www.coast2coastmixtapes.com.