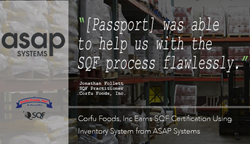 [Passport] was able to help us with the SQF process flawlessly
San Jose, California (PRWEB) May 03, 2016
ASAP Systems, a leading provider of inventory management and asset tracking systems, today announced that Corfu Foods, a leading gyro meat and bread manufacturer, has become SQF certified after adopting ASAP Systems Passport as its food production inventory tracking system.
"[Passport] was able to help us with the SQF process flawlessly," says Jonathan Follett, SQF Practitioner at Corfu Foods. "My employees find this system so easy to use, and the combination of functionalities are great."
Corfu Foods uses Passport to track batch and lot based inventory distributed across three countries: the United States, United Kingdom and Japan. Passport was chosen in part due to its innate ability to track inventory according to the Safe Quality Food (SQF) Program, a highly-credible and rigorous system for all sectors of the food industry.
The barcode based inventory software enables "one up, one back" tracking and reporting to be easily automated, making sure finished products are traceable to the customer and supplier. Meeting this criteria was mission-critical, and in doing so, Corfu Foods accurately manages expirable inventory and avoids any food recalls or withdrawals.
For more information about the Corfu Foods case study visit:
https://www.asapsystems.com/case-studies/corfu-foods-sqf-inventory.php
About Corfu Foods
Corfu Food is a leading manufacturer and provider of the highest quality gyros meat products. Known for its familiar freshness and taste, Corfu foods has grown a loyal customer base in the US, UK, and Asia. Corfu Foods is headquartered in Bensenville, Illinois, and has an office in Long Island City, New York.
About ASAP Systems
ASAP Systems provides leading barcode based inventory management and asset tracking solutions, offering both cloud-based and on-premises systems. ASAP Systems helps businesses of almost every industry vertical reduce manual data entry, labor hours, and automate record keeping throughout their inventory workflow. ASAP Systems has offices in San Jose, California (headquarters) and Austin, Texas.