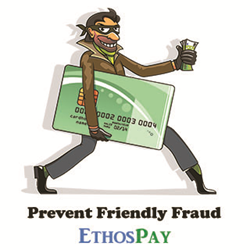 We have migrated a state-of-the-art chargeback mitigation system into our portfolio of services which could potentially save online merchants hundreds or thousands of dollars and even save their businesses
Los Angeles, CA (PRWEB) May 16, 2016
As part of its dedicated service to provide dependable merchant processing solutions for small to mid-sized businesses, EthosPay has announced the addition of a chargeback mitigation service which aims to help their clients fight 'friendly fraud'. Also known as chargeback fraud, 'friendly fraud' is a major problem for retailers as it is extremely difficult and time consuming to deal with, costing online merchants billions of dollars every year.
A survey of 1,000 people undertaken last year by e-commerce anti-fraud company, Trustev, found that 17 percent of American consumers have disputed charges without contacting the online merchant first with an astonishing 5.1 percent of those admitting to deliberate chargebacks. Of those who lied about receiving a product or disputed a charge, 8.6 percent said the item in question was over $100. These types of chargebacks can create the margins which run small to mid-sized online merchants out of business.
"Friendly fraud places many of our clients' businesses under serious threat," said EthosPay Merchant Services Director, Steven Braun, "In response to this we have migrated a state-of-the-art chargeback mitigation system into our portfolio of services which could potentially save online merchants hundreds or thousands of dollars and even save their businesses."
With the introduction of EthosPay's new chargeback mitigation and representation system, the company aims to fight on behalf of merchants who are hit by friendly fraud and attempt to prevent chargebacks from occurring by providing merchants with an alert when one is filed, offering a small window in which they can attempt to resolve the chargeback and avoid additional charges. This service helps to eliminate the risk of chargebacks becoming too costly for an online merchant and the even greater risk of too many chargebacks prompting the closure of a merchant account.
About EthosPay
EthosPay is a trusted credit card merchant processing solution for low and high risk businesses. With the company's founders boasting decades of experience in the industry, EthosPay provides clients with innovative payment options designed to suit both their industry and specific business type. Merchant processing solutions offered by EthosPay include chargeback prevention help, chargeback alert system, secure payment gateway, unique processing solutions, advanced fraud scrubbing, virtual terminal, Echeck services, API integration, and much more.