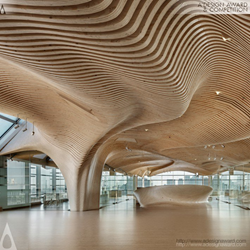 Como, Italy (PRWEB) April 30, 2016
Today, A' Design Award announced Raphael Crespin and his team as one of the esteemed recipients of the coveted Platinum A' Design Award in Architecture. The Architectural Design Award is indeed one of the most competitive design competition categories, and the overall quality of the submissions in the category have reached a record peak during the 2016 edition. During the 2015-2016 period, thousands of extraordinary architectural and interior projects were submitted to the accolade from across the globe, in order to compete for international fame, prestige and publicity.
The "One Main" project was awarded a Platinum Design Award which is given only to top 1% percentile designs that demonstrate an exemplary level of perfection in design. Entries are peer-reviewed and anonymously judged by an 83-person jury panel composed of prominent scholars, established designers and influential press members. The project was given the Platinum A' Design Award as it was not only aesthetically superior but it was also highly sustainable.
Like many great design projects, the award winning "One Main" project was the fruit of the combined efforts of a great creative team that brought together big names in architecture and design such as: Mark Goulthorpe, Raphael Crespin, Gabriel Blue Cira, Matt Trimble, Priyanka Shah, Kaustuv de Biswas, Alex Scott, Helen Heitman and Pablo Garcia, supported by the efforts and contributions of Paul Jacobson (General Contractor), Shawn Keller (Millwork Contractor) and CChange Investments / Zero+ (Client). The creative team was invited to Italy to attend the black-tie gala night and award ceremony to celebrate their success.
About A' Design Award and Competition
The A' Design Award & Competition was established in 2009 in order to create a global awareness for good design practices and principles. The A' Design Award has a philanthropic goal of advancing mankind through good design, thus each year the very best design projects from all countries and in all disciplines are highlighted, recognized and promoted worldwide. For further information about the A' Design Accolades please visit http://www.designaward.com