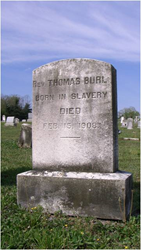 Cemeteries are great storytellers.
Franklin County, PA (PRWEB) April 30, 2016
Cemeteries tell many stories, and the Franklin County Historical Society is helping the public see and experience these stories with a county-wide cemetery scavenger hunt during May. At first, it sounds a bit strange because cemeteries are reminders of personal mortality and the mortality of friends, loved ones, and strangers. But, on closer inspection, cemeteries show how the community grew and where in communities various ethnicities lived. The way graves are marked lends insights into wealth, relationship, family longevity, chronology of religious immigration, architectural styles, childhood mortality, and impact of contagious illness on communities and families. Cemeteries are artifacts of individual, cultural, and community history. The Franklin County Historical Society wants to help the public discover such stories with the Cemetery Scavenger Hunt.
Individuals or teams are invited to explore Franklin County cemeteries. Registration is $8.00/person and includes clues, maps, and a Flat Ben to be used to find specific headstones. Completing the scavenger hunt will take explorers throughout Franklin County to find information and snap photos with Ben. Once completed, return the information packet by mail, email, or in-person to the Franklin County Old Jail, 175 East King Street in Chambersburg by 4:00pm on May 27. All correct answers will be entered into a drawing for cash prizes of $100, $75, and $50.
In the first half of the 1700s, Franklin County was the frontier, and it attracted many Scots-Irish and German immigrants, seeking to establish new homes. Annually, hundreds of genealogy researchers find their way to Franklin County and into the dozens of cemeteries the county has. Join the Franklin County Historical Society Cemetery Scavenger Hunt and discover what many genealogy researchers know. Cemeteries are great storytellers.
The Franklin County Historical Society Scavenger Hunt is one way to explore Franklin County PA. The Franklin County Visitors Bureau invites all to explore more history, arts and architecture, recreation, natural beauty, fresh foods and the warm hospitality of communities like Chambersburg, Greencastle, Mercersburg, Shippensburg, and Waynesboro. Franklin County PA is located just north of the Mason Dixon Line and is an easy drive to Washington DC, Philadelphia, and Pittsburgh. Discover more....plan a visit soon at ExploreFranklinCountyPA.com or by contacting 866.646.8060.