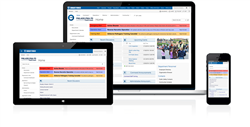 New VP of Sales brings experience integrating Sales and Training for profitable growth!
Greenwood Village, Colorado (PRWEB) May 02, 2016
Jared Rose has been named the new VP of Sales and Training at Adventos™.
Jared brings with him a wealth of experience in leading sales teams and delivering training to develop products, people, and outcomes. Of his many success factors in sales, he values understanding of the unmet needs that exist for particular customers and markets and is anxious to apply this principle to today's law enforcement marketplace. Jared has implemented change management in prior leadership roles which is a critical aspect of need throughout the ranks of law enforcement and he is eager to incorporate a principle and process-based approach to this unmet need as well as other critical unmet needs in this sector.
Prior to joining Adventos™, Jared worked for pharmaceutical and medical device company Alcon Laboratories. There, Jared held numerous roles of increased responsibility ranging from sales, sales management, marketing, and training. Not only did he gain hands-on leadership experience, he reached top tier performance levels at Alcon by leading multiple teams to exceed corporate goals through people development and strong sales execution. In 2014 Jared transitioned to a training role in the Global Performance and Development Department for Alcon Vision Care where he created a new sales model that was successfully rolled-out in more than 25 countries and helped increase sales by $2.8MM by the close of 2015.
Speaking of his new hire, Mariano Delle Donne, Adventos™ CEO, said "This guy is awesome! We are so pleased to welcome Jared on board, and look forward to him integrating Sales and Training at Adventos™ that will propel the growth of our people and our SmartForce™ AMS Solution."