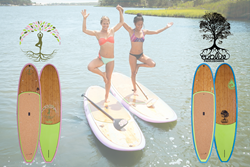 The best way to enjoy the Evolve Roots SUP board is by practicing with close friends on calm waters.
Ocean City, MD (PRWEB) May 02, 2016
The Evolve Paddle Board Company- which specializes in the production and sales of high quality SUP boards at affordable prices announced today the outcome of their partnership with Yoloha Yoga- producers of high quality cork yoga mats. Together they have created what has been termed the "Roots Yoga Board."
SUP yoga has seen a dramatic rise in popularity throughout the last few years. The makers of Evolve and Yoloha, both being aware of this boom decided to create a board which worked naturally for the practice and poses of yoga on the water. With it, the seasoned yogi and newcomers alike will be able to paddle their way out to secluded spots on the bay, creeks, river, and even ocean, anchor down and flow through their favorite yoga poses.
The board measures 10'6''x32'', comes with interchangeable "connexsup" plugs for holding paddles and anchors, a thicker, fuller and flatter deck for practicing even the most difficult poses and a farther reaching, wider cork mat which sits on a larger surface area of he board as opposed to the standard mats found on other brands. This was created specifically for stretching poses such as ''downward facing dog,'' in mind. The added touch of cork instead of foam gives the yogi a natural, completely sustainable fabric underneath their feet that does not sacrifice looks or functionality. Taking advantage of a gift from Mother Earth- one which actually helps instead of harming trees- will make any future purchaser smile.
Of course, as one would expect from the Evolve Paddle Board Company, the design of the board is not only functional but full of beauty and style as well. The original Roots board boasts a pink rail with lime accent, bamboo throughout the top and bottom, and of course the recognizable Roots logo- the yogi spreading roots into the ground and leaves into the air.
Check out additional pics here: https://www.instagram.com/evolve_boards/
This year Evolve has added a gender-neutral color scheme of blue and lime, which finally opens up opportunity for male participants and purchasers. The new style keeps the same tree themed logo of the original.
Evolve and Yoloha are excited to spread the stoke of yoga on a SUP and have taken the necessary first steps in not only getting new participants to join but have improved the overall experience for those well seasoned in the nature of practicing yoga on the water. By combining a great board with an equally great mat, Evolve and Yoloha have coalesced to create the ultimate SUP yoga board.
To check out our full lineup head here: http://www.evolveboards.com
To see a video demonstration click here!: https://www.youtube.com/watch?v=QgHAbyzV0GA&feature=youtu.be
To check out Yoloha's corks mats click here: http://yolohayoga.com/