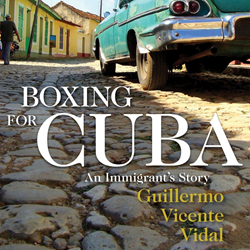 Fights between Mami and Papi grew more intense, most of them initiated at the dinner table as they discussed Cuba's fate and our own. -- G. Vidal
Evergreen, Colorado (PRWEB) April 30, 2016
Brook Forest Voices presents "Boxing for Cuba: An Immigrant's Story," a story of nations, peoples and cultures, which strike at the heart of modern day life in a world that seems frozen in time and yet moving forward--CUBA.
Political and cultural views are discussed in a poignant, yet controversial manner as a boy, his brothers, and his family face the struggles of an ever-changing world between Colorado, Florida and the home they love in Camagüey, Cuba. Narrated by BJ Harrison, Guillermo Vidal (former mayor of Denver) gracefully recounts the tale of his family despite the pain..
After proudly shaking the hand of Fidel Castro, Vidal was barely ten years old when Castro brought an abrupt change for the family. Though once staunch supporters of La Revolucion, Vidal's parents soon found they could no longer keep their sons safe in the new face of Castro's reign, making the difficult decision to send Vidal and his brothers to the U.S. via Operation Peter Pan in 1961. Vidal was on his way to Sacred Heart Orphanage in Pueblo, Colorado when a chance encounter in the airport led to shaking the hand of Robert Kennedy.
Despite his fears, as an adult Guillermo returns to his beloved Camagüey and delivers truths that shows the beauty and struggles that remain to this day. "Boxing For Cuba" is not just a story. It is a tale of faith, hope and a family who becomes more than Operation Peter Pan could have ever dreamed.
About Brook Forest Voices: a complete audio production studio located just west of Denver in Evergreen, CO, specializing in audiobook narration, production and publishing. BFV is designed to help large and small publishers, as well as authors, with all their audio needs. Publishers, authors and narrators wanting to learn more can visit http://www.brookforestvoices.com or contact Jaime Andrade, BFV Business Manager at 303-670-4145.