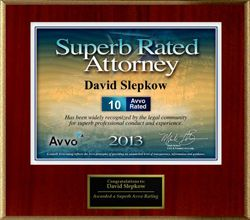 Distinguished RI law firm established in 1932!
East Providence, Rhode Island (PRWEB) May 04, 2016
Slepkow Slepkow & Associates, Inc.'s firm website was launched in April 2016. SS&A teamed up with one of the top website design companies to create a state of the art law firm website. This legal information portal contains informative legal articles related to the law firm's main practice areas. These practice areas include: real estate, estate planning, divorce, family law, child custody, personal injury law, automobile accidents, criminal law, elder law, real estate transactions, landlord tenant law, business law and criminal law. The firm site can be found here.
The RI law articles are authored by the attorneys at SS&A. These legal articles are original and informative. They answer real questions that help people navigate through an increasingly complex legal system. This combined website and blog also features articles and information concerning personal injury law in Rhode Island http://www.slepkowlaw.com/personal.htm, RI car accident, pedestrian accident, motorcycle crash, trucking collisions and RI wrongful death
The Slepkowlaw website has a long and rich history. The site was originally developed and launched in 1999. Over the past 16 years there have been several iterations of the site including a Joomla and Wordpress content management system.
David Slepkow is an experienced, effective and accomplished RI lawyer. Rhode Island car accident attorney, David Slepkow received a "Superb" rating by AVVO, an industry leading legal Information provider. http://www.ricaraccidentlawyers.com This is the highest rating that AVVO provides to lawyers. David prides himself on many 5 star excellent reviews from his prior legal clients. His motto is "don't settle low, call David Slepkow." David has substantial experience representing clients in divorce, child custody, child support, criminal and family law matters.
David was sworn into the United States Supreme Court Bar in 2012 after a meaningful and precedential win at the RI Supreme Court in 2011. Rhode Island personal injury lawyer, On February 22nd, 2012 RI car accident attorney David Slepkow traveled to Washington, DC for a swearing in ceremony at the US Supreme Court. A small contingent of accomplished attorneys was sworn into this exclusive Bar. David was honored to be selected by a Major Law School for this honor.
David Slepkow, is honored to be a member of the United States Supreme Court Bar. http://www.ripersonalinjurylaw.com This distinction and achievement constituted the pinnacle of his legal career. Nonetheless, he plans on continuing to provide high quality, aggressive, timely and effective legal services to his legal clients for many years in the future.
David Slepkow, on behalf of his client, challenged an incorrect decision of a RI Judge, Newport Family Court in the case of Rogers V. Rogers, No. 2010-106-Appeal. (N 09-93). He was able to convince 5 RI Supreme Court Justices to vacate the decision of the lower court in a unanimous 5-0 decision in favor of his client. This was a precedential decision that helped determine the jurisdiction of the lower Court in certain types of RI divorce cases.
Rhode Island divorce lawyer, David Slepkow is also a member of the RI Bar Association and the Massachusetts Bar. http://www.lawyersource360.com. For over 10 years, David was a member of the Bar for the Federal Court First Circuit, District of Rhode Island.
David is a Partner and Owner of Slepkow Slepkow & Associates, Inc. SS&A is an esteemed law firm established by David's Grandfather in 1932. SS&A will be celebrating its 85th birthday in 2017!
David has a very extensive legal background in family law, divorce, RI personal injury, auto accident http://www.rhodeislandcriminallawlawyer.com child support, child visitation, restraining orders, criminal law & child custody.
Rhode Island personal injury attorney David Slepkow http://www.ripersonalinjurylaw.com has authored hundreds of legal articles and blog posts concerning RI Law including: RI car accidents http://www.rhodeislandpersonalinjuryattorneyblog.com, pedestrian accident, negligent security, trucking collisions, RI wrongful death, motor vehicle crash, texting while driving, distracted driving, underinsured motorist claims, rear end car accidents as well as all types of motor vehicle collisions and personal injury law.
These informative law articles written by RI personal injury attorney, David Slepkow, can be found on his numerous blogs and website. East Providence, RI car accident attorney David Slepkow has also written hundreds of posts concerning truck, motorcycle, auto, bus, automobile, bike, dog bite, tractor trailer wrecks, fatal motorcycle accident, drunk driving and reckless driving crashes, SSI and SSDI, trip and fall, construction accident, work related accident, bicycle, slip and fall and premises liability accidents. These articles can be found at David's numerous Rhode Island and Massachusetts Law blogs and website.
David represents clients across the State Of Rhode Island and Providence Plantations including, East Providence (Riverside and Rumford), Warwick, Cranston, East Greenwich, Cumberland, Barrington, Warren, Bristol, North Kingston, Newport, Westerly, North Providence, Johnston, Central Falls, Pawtucket, Woonsocket, West Warwick, Portsmouth and South Kingstown.
Massachusetts personal injury lawyer David Slepkow has also written dozens of articles concerning Massachusetts personal injury law including van and SUV accidents and workers compensation related articles. David has several MA negligence law blogs covering tort law for the Commonwealth of Massachusetts (MA). Mass. injury law is distinctly different from RI liability law.
RI legal and ethical disclaimer:
The RI Supreme Court licenses all lawyers and attorneys in the general practice of law, but does not license or certify any lawyer / attorney as an expert or specialist in any field of practice. While this firm maintains joint responsibility in injury cases, most cases of this type are referred to other attorneys for principle responsibility.