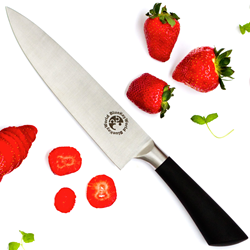 (PRWEB) May 03, 2016
Designed for use by professional cooks and stay-at-home cooking hobbyists alike, the newly-released Chef's Knife offered by Blue Key World has been touted as "any cook's dream". Built with top quality stainless steel, anti-corrosion properties and a keen edge, the company claims the recently unveiled and soon-to-be-available chef knife retains its razor edge for longer than other knives on the market – making it the superior cutting choice.
"Knife maintenance can be the most tedious part of owning a quality kitchen knife," says a representative for the company. "Rather than worry about sharpening their knives on a weekly, or even daily basis – or finding a professional to do it for them – our knife is designed to be used, cleaned, and put away."
Built sturdily and to retain its edge and paired with an ergonomic, easy-to-grip handle, the knife effortlessly works its way through fine green herbs, root vegetables, soft fruit, meat, poultry, fish, and other foods such as various cheeses and chocolate.
After use, putting the knife in a dishwasher is perfectly safe according to the company. However, the company representative does have one extra tip. "Try simply washing it with a sponge and some warm soapy water, and immediately drying it. Careful washing can help keep the knife's edge."
"We pride ourselves in a quality product," the representative explained. "But we want to assure our customers with more than just our promises. That's why we implemented a full money back guarantee on our knife." If you aren't happy with the knife for any reason, the company allows customers to return it for a full refund within 30 days of purchase.
However, the company is confident that you wouldn't want to. "Our knife is perfect for mincing, dicing, slicing, and being used as any aspiring cook's full-use main knife in the kitchen," the representative claims. "We've looked at what makes a great all-purpose knife, and we've worked hard to embody that in this product. The knife is the most basic yet important cooking utensil, and having a sharp, easy-to-grip knife in the kitchen at all times makes any cook's job much easier." For exact product specifications and more company information, please refer to the Amazon link below.
To celebrate the product's success online, Blue Key World has implemented a special discount for Amazon shoppers. Anyone purchasing the Chef's Knife through Amazon can, for a limited time, save 15% by entering the special promotional code: "CKNIFE15" on the Amazon product page. More information on the promotion, and the product itself, can be found through the Chef's Knife Amazon page.