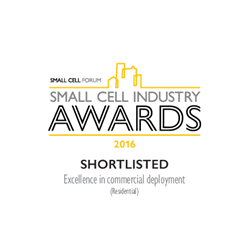 Munich, Germany (PRWEB) May 03, 2016
Node-H GmbH, the leading supplier of small cells software technology, has been shortlisted for the Excellence in commercial deployment (Residential) award by the Small Cell Forum in the annual Small Cell Industry Awards. The decision to shortlist Node-H recognizes Node-H's contribution to the deployment of small cells. Node-H's flagship deployment is with Iliad's Free Mobile network in France, with what is believed to be the largest small cell deployment of residential femtocells live today. Node-H adapted its standards based small cell technology to integrate seamlessly with the Freebox home gateway to radically reduce the incremental cost of the built-in femtocell technology.
The award winners will be announced at the Small Cells World Summit in London on the 11th of May. Node-H is a Sliver Sponsor of the Summit, and will be hosting a workshop on Self-Organizing Networks (SON).
SON technology is becoming increasingly important for cellular networks as cell sizes reduce, and the number of cells increases. Small cells are dramatically cheaper than legacy macro cells, but the cost saving is lost if each cell requires expensive manual configuration. SON is a collection of tools and techniques whereby a small cell measures and co-ordinates with neighboring cells to configure itself dynamically, based on the environment and the current usage of the cell. A set of SON deployment policies allows a wide scale enterprise or residential small cell deployment without any manual configuration of individual cells.
At the conference Node-H will be emphasizing its UMTS/LTE dual-mode enterprise solution which is based on the Broadcom BCM61765 dual-mode small cell SoC. Operators are beginning to migrate voice calls from the UMTS network to VoLTE on the LTE network. However, due to the cost and complexity of deploying VoLTE infrastructure and the requirement to qualify the VoLTE implementation for each handset model, this transition will take place over several years. During this phase a UMTS/LTE dual-mode small cell is the best way to guarantee an excellent voice experience for high-value business customers in the enterprise.
"Together with our OEM partners, Node-H can offer low-cost UMTS/LTE dual-mode small cells to provide quality service to the operator's best customers, connecting with any infrastructure", says Mike Cronin, CEO of Node-H. "Enterprise customers generate the highest ARPU for the operator, so they deserve a high quality of experience, both now and in the future."
Node-H's small cell turnkey software includes a broad portfolio of technologies covering enterprise and residential, LTE-FDD, LTE-TDD and UMTS, as well as dual-mode LTE/UMTS. Other products that Node-H will announce at the Small Cell World Summit are dual-cell LTE and LTE with Carrier-Aggregation. An LTE small cell supporting carrier aggregation allows category 6 phones to reach data rates of up to 300Mbps.
Node-H software is deployed in millions of small cells worldwide. Demonstrations of Node-H small cell features can be viewed at the Node-H website http://www.node-h.com/showcase.html.
About Node-H
Node-H GmbH is a pure-play small cells software company covering UMTS, LTE and dual-mode small cells technologies for residential, enterprise and public small cells. The company's portable software runs to the maximum platform capability on the leading chipset platforms. The high-performance fully integrated software was designed for cost-optimized SoC small cells platforms to help device manufacturers achieve fast time-to-market with a high-quality solution. Node-H is a member of the Small Cells Forum. Node-H is privately funded and based in Munich, Germany. For more information about Node-H, please visit http://www.node-h.com.