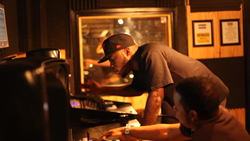 "The whole goal of this is to give kids access to resources and guidance on how to be successful in life."
Baltimore, MD (PRWEB) May 04, 2016
Baltimore-based Damond Blue Music Group announces the launch of its #beatsnotbullets summer internship program. The goal of the program is to foster awareness of how simple grass-roots community efforts can increase technology access for inner-city youth. A free, family-friendly concert and community event will be held to celebrate the program, details of which will be announced later this month. The program will be spearheaded by music artist and Baltimore native, Damond Blue.
Interns will work at DBMG's offices and studio, receiving real world, hands-on experience and training on a full suite of modern audio recording equipment. They will also learn a multitude of valuable office skills, have access to photography, videography and graphic design software and equipment. The experience will allow interns to work closely with professionals from their community and give them direct insight into the entrepreneurial process. Additionally, the students who complete the program will receive letters of recommendations to include with transcripts and future job applications as well as a $500 scholarship to be used for academic or vocation improvement.
"Getting in the studio as a teen allowed me to me to see that there were options for me, outside of what I knew from the street or my own family. I wouldn't have known these options existed otherwise," said Blue. "Give young people access to technology and they can do amazing things with it. The whole goal of this is to give kids access to resources and guidance on how to be successful in life. I just hope we give them an awareness of what's possible so that they can make good choices that'll take their life in a positive direction."
Damond Blue is a fast rising local hip-hop artist and entrepreneur. His hit single "Give It To You" is currently in rotation on airwaves across the country and available on iTunes.
Baltimore city high school students who are interested in participating should visit http://www.damondblue.com/beatsnotbullets to apply by June 1. Questions or inquiries can be directed to beatsnotbullets(at)damondblue(dot)com.