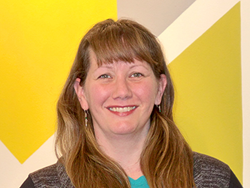 Tanja's drive and passion for digital analytics has made Society a market leader in analytics managed services. - Chad Richeson, CEO Society Consulting
Bellevue, WA (PRWEB) May 02, 2016
Society Consulting, one of the largest and fastest-growing analytics consultancies in the nation, announced today it has appointed Tanja Wisskirchen-Curtis as Managing Director of its digital analytics managed service practice. Based at the company's Seattle headquarters, Wisskirchen-Curtis leads a team of 40 digital analysts to deliver measurement, insights, and recommendations to Society's strategic clients.
Wisskirchen-Curtis joined Society in 2011 as a Senior Consultant and has held Manager and Director roles at the company. Prior to joining Society, Wisskirchen-Curtis held leadership roles at AT&T and Eddie Bauer, where she led digital insights, customer analytics, and online and offline datamart efforts.
"Tanja has been instrumental in building our analytics managed service offerings," said Chad Richeson, Co-Founder & CEO, Society Consulting. "Her drive and passion for digital analytics and innovative delivery models has made Society a market leader in analytics managed services."
"Analytics needs are growing rapidly. I look forward to advancing our managed services offering to help our clients grow their analytics capabilities", said Wisskirchen-Curtis.
Wisskirchen-Curtis will serve on the Society Executive team where her contributions will help the company achieve its mission of helping clients Compete on Customer Experience.
ABOUT SOCIETY CONSULTING Society Consulting is a Seattle-based analytics consultancy that serves blue chip clients including Microsoft, AT&T, Sephora, Salesforce, T-Mobile, Fox, and Verizon. Society offers Analytics, Big Data, and Customer Experience services to help its clients create innovative data-driven customer experiences. Society was recently ranked as the #21 fastest-growing consultancy in the nation by Consulting Magazine and one of the nation's best consultancies by Forbes Magazine.
For further information please contact, chad(at)societyconsulting(dot)com.