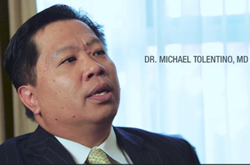 There is no redeeming value to Blue Light, as it damages the retina through photo-oxidation and accelerates macular degeneration - Dr. Tolentino
Phoenix, Arizona (PRWEB) May 03, 2016
"Blue Light" is being recognized by the Scientific Community, and public awareness is growing slowly through media reporting. As is the case with many emerging issues, there are varying degrees of understanding. Uneducated opinion about the effect of blue light is confusing the issue and the population.
The impact of naturally occurring Blue Light has been overlooked for many years; however with increased exposure to artificial Blue Light from high energy efficient light sources including fluorescent lighting and LED screens (e.g. computer screens, tablets, smart-phones and televisions), medical scientists are recognizing Blue Light can have profoundly negative effects on human health.
"There is no redeeming value to Blue Light" states Dr. Tolentino, "as it damages the retina through photo-oxidation and accelerates macular degeneration". The short term implications on vision may include digital eye strain, while long term chronic exposure can impact central vision.
While unfiltered Blue Light can have detrimental consequences for vision, it may also affect the Retino-Hypothalamic tract which regulates human physiological (i.e. circadian, endocrine and neurobehavioral) functions. Dr. Tolentino suggests very few of us understand that we need to protect against intense Blue Light during the daytime and any Blue Light during evening hours. The ability of night time Blue Light to disrupt our circadian pattern can lead directly to sleep deprivation and indirectly it may be related to cancer, cardiovascular disease, hypertension, depression, diabetes, and obesity.
Protective filtration of Blue Light's effect on humans has been perfected and patented by U.S. Physicist Dr. James Gallas PhD., based on nature's own defense paradigm – Melanin and Ocular Lens Pigment. When this synthesized combination is infused in polycarbonate, the resulting TrueBlue TM lenses provide incomparable protection from Blue and Violet Light. Unlike less effective lenses that use tinting or reflective technology, only TrueBlue TM lenses feature Melanin and OLP TM, for superior filtration of harmful High Energy Visible Light with exceptional preservation of color perception.
Dr. Tolentino is globally recognized as a distinguished Medical Authority, whose qualifications include education, research, and faculty at prestigious medical universities including Brown, Harvard, University of Massachusetts and University of Pennsylvania. He elucidated the pathophysiology of exudative macular degeneration and diabetic retinopathy and pioneered injection treatments for these blinding conditions. He is considered a vision expert, engaged as a clinical trialist and adviser to several of the world's leading pharmaceutical firms. In addition to being a gifted Vitreo-Retinal Surgeon, Dr. Tolentino is an Associate Professor of Ophthalmology - University of Central Florida; as well as an inventor, entrepreneur and philanthropist.